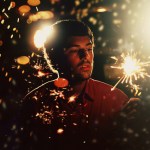 Eduardo Acierno occasionally asks attendees at his photography workshops in Veracruz, Mexico, to look at a number of photos in a montage. They are lovely images, and they have all been licensed by Getty Images at some point in his budding photography career. "What do these photos all have in common?" he asks. The usual answer might be, "They were taken by you."
Eduardo shows them another slide with a battered old Sony Cybershot DSC S930 point-and-shoot camera. "You can see how everyone's just shocked to see such a crappy camera," he said. "Their jaws drop when I say 'these were all taken with this camera.'"
He wants to drive home a point: Anyone can take great photos, and anyone can do it with modest equipment. "I never would've thought that tiny camera would take me to where I am right now." The 19-year-old self-taught fine-art photographer focused on fashion and conceptual photography also skips the expensive photo-editing software, preferring instead to use the free, open-source program Gimp. Fellow Flickr member and fine-art photographer Rosie Hardy turned him on to the program. And he said when he could finally afford Photoshop, he preferred the familiarity and functionality of the free software.
"I love talking about my equipment because a lot of people think that having expensive gear will give you amazing images, which is totally wrong," he said. "I love encouraging young, aspiring artists by letting them know that they don't need a $10,000-dollar camera to produce masterpieces. All you need is passion, determination, and love for what you do."
Where he's from, photography isn't a common activity for a teenager, and he had to scrape together whatever he could find for shooting. At first he didn't even tell his parents that he was taking pictures, for fear they might find it impractical. He often posed in his own photos for his early conceptual work. Eventually, he said, he preferred to be behind the camera and started transitioning to more fashion and editorial shoots.
In 2013, Eduardo traveled to the U.S. for a Flickr Meetup in New Hampshire, where he spent several weeks with many of the young fine-art, conceptual-photography friends he has made through the site. He was so moved by the connections he made, he decided to do an extended trip this summer, including several meetups in New England. To coincide with the trip, he has created a Tumblr he calls Take Nothing But Pictures, which he uses to document his encounters.
"The whole nature of the journey is to travel around documenting every second of my adventures with my photographer best friends," he said. "I have a huge thirst for adventure, and there's nothing I love more than spending time with people who share the same passion for photography as me."
In Flickr, Eduardo said he found the community that nurtured his dream. And it gave him "the courage to break the #1 rule that your parents tell you when you start using the Internet: 'Don't talk to strangers.'" Naming fellow photographers he met on the site who influenced him, such as Olivia Bee, Tamara Lichtenstein, Theo Gosselin, and many others, he said many of his deepest friendships were developed around their shared passion. "Flickr is such an amazing community, and I'm forever grateful for all the opportunities it's given me. I don't know what I'd do without some of the most amazing people I've met through this site."
Perhaps the most important leg of his journey will be in New York City, where he is staying for a month to meet with creatives and agents, hoping to set himself up for work in fashion and editorial. "There's nothing I would love more than to be able to take photos for a living," he said. "I love the whole process behind the creation of editorials, campaigns, and shoots. I want someone who will lead me in the right direction and who allows me to do what I love most for a living."
Regardless of what comes of this summer in the Big Apple, Acierno said he will keep to his humble roots and work to empower other photographers like him to pursue their goals. He is a DIY photographer evangelist, and he wants everyone to take up the art.
"I enjoy sharing my story and letting people know that it is okay to make mistakes, it's okay to be inexperienced, but it's not okay to give up," he said. "I want to let people know that it is possible to make it in this business and that random factors such as your location, experience, or equipment shouldn't get in the way between you and your dreams."
Thank you, Eduardo, for sharing your story with us. Flickr members, you can join him on his journey this summer at Take Nothing But Pictures or follow his Flickr photostream. And if you're an agent, don't wait too long to get in touch with him!