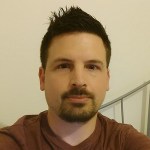 Look for light. Find structure. Turn up the volume and desaturate the world. Create order. Boost the bass. Paint in cool and structured color. This is a behind-the-scenes secret of TomianKnowles Photography.
In his 90's Techno dream world, school teacher Tom Knowles creates sci-fi scenes from the urban-industrial structure in his favorite cities around the world. As a child, he organized his toys in lines, a self-described higher spectrum perfectionist. As an adult, he's come to appreciate "the geometry and design of modern buildings." It's a natural evolution.
Tom got hooked on photography a few years ago after he saw a friend photographing star trails in the Tatacoa Desert in Colombia.
"I was fascinated by the technology and intricacies behind modern DSLRs and had never realized their creative potential alongside modern software. Special moments and beauty could be recorded and transformed into something lasting and personal. Since that moment I've never looked back."
Lighting and geometry are to Tom's eyes and brain what techno synth beats are to his heart, an internal and frenetic metronome of shutter clicks. Often he links to a techno recording on Youtube in a photo's description to bridge the gap between what he's hearing and what his followers are seeing. The techno influence comes through in his industrial photography in the deep and rich shadows that accompany the strong, geometric lines of the building elements he shoots.
(Play this song as you read the rest of the article.)
https://www.youtube.com/watch?v=-XuRqqjbatw
https://www.flickr.com/photos/tomianknowles/31275847644/
https://www.flickr.com/photos/tomianknowles/30378940145/
https://www.flickr.com/photos/tomianknowles/30157815872/
https://www.flickr.com/photos/tomianknowles/28599406993/
Tom lives in rural Buckinghamshire, UK, just outside of London, where he was born and spent many years of his life. When he ventures into the city it is his urban playground. He often listens to techno music while shooting and editing, letting the strength of the beats and rhythm echo into his photographs.
"The ever changing (as well as historic and hidden) cityscape provides a canvas of opportunities for the photography effects I am trying to achieve, as do a large number of modern art galleries and museums. London often appears to be a mecca for diverse characters, oddities, and general miscellany … the perfect background for any photographer!
"On a more visceral level, it's fair to say that the industrial aspect of London has a strong connection with the drum-and-bass and techno music that I listened to when I was growing up. London definitely acts as a conduit that aids me to recreate and reminisce on a significant part of my life in the '90s and heavily influences my style of photography."
https://www.flickr.com/photos/tomianknowles/20497511823/
https://www.flickr.com/photos/tomianknowles/24385906326/
https://www.flickr.com/photos/tomianknowles/26595834555/
https://www.flickr.com/photos/tomianknowles/31116320032/
In his meticulously organized way, Tom shows up with a plan. He researches locations he'd want to shoot and understands the timing and conditions that will be at play ahead of time.
"I thoroughly research locations so that I can compose different ideas for photos before I arrive. I like to have a few options [for shots] because in reality being in the situation can feel quite different than generating ideas behind a computer screen. If I don't have a strong idea or concept I normally just end up wandering around a place or changing my mind so many times that I wouldn't necessarily come out with anything rewarding."
https://www.flickr.com/photos/tomianknowles/24380749430/
https://www.flickr.com/photos/tomianknowles/25769942913/
This year Tom plans to return to Colombia to camp for an extended period and explore desert-scene light photography with his own techno flare. He's also launching a weekly photography club for his students to collaborate and collect enough work to present a gallery opening by the end of the 2017 academic year.
To follow Tom Knowles and his photography check out his Flickr Photostream or reach out to invite him for collaborations. You can also find him in the Critique Portfolio Pro Group on Flickr (if you think you have tough enough skin).