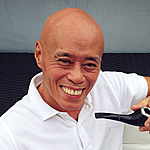 Peter Chen is a Singaporean fine arts photographer who has been photographing for close to 40 years. He has experience in commercial and wedding photography, and some of his works have been featured at hotels across the Southeast Asian island such as The Marriott and Fullerton Hotel.
Switching from film to digital photography was a disaster for now-retired photographer Peter Chen Ke Yong, 60. "I almost died. All my years of experience [in photography] almost went down the drain. I had to restart and relearn," he lamented.
It took him about 10 years to fully learn digital photo editing even though he had close to 40 years of experience in fine-art and commercial photography.
Going digital created more work for Peter. He said, "It is tougher now. After photographing, [I] still continue working on the computer… to bring back the actual colour that I want, according to my standards."
Photography was an expensive hobby he started at the tender age of 12. "I had to save money to buy my first Kodak Instamatic camera which cost $12. It took me some months to collect that amount, then I still had to save money for film and after saving for a roll of film, which took me another year, I had to wait a few more months to process my film. The next roll took me another six to eight months to save up."
Peter bought another camera, a Minolta, in the late 1970s when he was working as an electronic engineer. During this period, he also started freelancing as a wedding photographer.
It was only in the 1980s that he became a full time photographer at an advertising agency. He retired from the advertising industry after realising that he could no longer fit in with the current generation's taste in photography.
"Sometimes they overly saturate or overly contrast photos but they don't understand it because not many of them go through a proper course in photography. Today, they may overdo images but they don't realise it… If you take a look at wedding studios in Singapore, China or Taiwan, you see pictures that are all overdone, the colours are a bit ridiculous, very synthetic, very unnatural – they create all kinds of colours, but the clients like them."
Peter is now focusing on a personal project of fine art photography entitled "Transient Passages" – a compilation of favourite works dating back to the 1970s of which you can also see many photos in his albums.
The images in this series, shot mostly on film, resulted from spontaneous photo walks. Most of the subjects are lit using "ambient, natural street lights or house lights". His subjects include clouds, rooftops and architecture.
"I just walk around. And if I see nice lighting and good subject, I will just photograph," he said.
"Fine art photography is an expression of what you see and how you interpret your subject matter through the lens. Everybody has their own way of seeing things," said Peter, who enjoys working with natural or ambient light. Some of his works have been sold to private collectors and to hotels in Singapore, such as The Marriott, The Westin, and Fullerton Hotel.
When asked what he thinks of photographers today, he feels disappointed that many of them depend too much on photo editing and digital manipulation – "Today as long as you are competent in using a computer, you are qualified as a photographer."
His advice to young shutterbugs hoping to take up fine art photography: "[They should] quit chasing the latest tech in photography and pay attention to developing a unique identity for themselves – through their works. The essence of photography is in taking pictures, not the equipment. Your subject and your composition should set you apart."
Peter uploads most of his works on his Flickr account, and he explained that "Flickr stood out from other platforms with its ease of use, simplicity and functionality. It observed an adequate level of security with regard to intellectual property, providing me with peace of mind when sharing my work."
We thank Peter Chen for taking the time to share his story and thoughts with us.