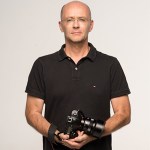 Éric Lafforgue is a professional photographer who travels for well-known magazines, documenting people in situations that most of the world doesn't get to see or want to witness. He's taken photos in areas that many would consider off-limits to travel, such as Somalia and North Korea, where he documents his subjects with a friendly intimacy that challenges our preconceptions about their culture and their lives.
Some of Lafforgue's most well-known images are from North Korea, where he traveled six times before being banned for publishing his work online. His photos capture unscripted moments of soldiers relaxing or even sleeping in the grass, all of which infuriated his hosts. Rather than take the images down, as they insisted, Lafforgue jeopardized his chances of future visits to the country for the integrity of his craft.
"Not an easy task to shoot a smiling soldier!" said Lafforgue of the young man in the image above, which was one of many to depict soldiers at rest, a pose that the country's leadership doesn't want the outside world to see. "I was not supposed to take [these] pictures."
Another journey he recently undertook was to Iraq, where he photographed Yazidi people, many of whom have been attacked and displaced by Islamic State militants.
"3 August 2014 will remain the day the life of the [Yazidis] has changed," Lafforgue writes about one of his photos. "Up to 200,000 [Yazedis] people have been displaced from their homes in Sinjar City and the surrounding towns and villages when ISIS arrived by surprise.
Yazidis are not Muslim, and the ISIS militants have initiated a genocidal conversion campaign. "Yazidis were executed as they refused," wrote Lafforgue. "Most of the people left the village on time, fleeing on foot in the mountains, without nothing and most of the time without water or food, under a 50 degrees temperature."
His images of the Yazidis are achingly beautiful and share with the world a vivid narrative of a people caught in the turmoil of world geo-political strife.
Lafforgue said he was first noticed on Flickr, where he was approached by agents and news outlets, and where his photos allowed him to start an incredible career. His is a great success story, which he owes to his talent and hard work. Discover with us hid unique portraits of men, women and children from all around the world and learn more about his work in the extended interview below.
Can you introduce yourself?

I live in Toulouse and I became a professional photographer a bit by accident. I used to work in radio, television, press, and mobile apps. Thanks to Flickr, my photos were discovered by magazines around the world and I was able to switch careers. I now get to travel the world, contributing regularly to publications like Lonely Planet Magazine and the Daily Mail.
I was also chosen to be a Sony Ambassador and have been lucky enough to use their most recent cameras in my work. I spend a lot of time on social media because these days publications and other media outlets prefer to order articles and photos directly from the artist. So social media is the best way to get noticed and followed.
In addition to Flickr, I have a Facebook page where I keep fans informed on things like upcoming travels. Of course, I also have my own website.
When did your passion for photography begin? What was the trigger?
Honestly I never really had a passion for photography. I was fired from a company I had spent 15 years building. It was a bit of an existential moment for me. I decided I wanted to travel, but travel with a purpose, so I picked up a camera. I didn't have grand dreams or anything. My first trips were to Papouasie, Yemen, Eritrea and North Korea.
Since these countries were "off the beaten path" so to speak, my work was quickly noticed and started taking off on Flickr. The big inciting moment was when GEO Germany called me for a ten-page spread of my Papua New Guinea photos. I realized that photography might actually be more than an avocation and pay for my trips around the world.
Looking through the photos in your gallery, the extent of your travels and the amount of photos are really remarkable. Why did you decide to share these colorful, captivating images you created?
Before posting on Flickr, I never knew that people from all different parts of the world would be interested in my photography. So once people started to favorite my photos, I fell in love with the platform.
Flickr has always maintained a level of quality that made me stick with it. The comments are often pertinent and it's a good place to test which photos to then submit to photo editors and magazines. My desire to share grew: I saw that Flickr could be a window to discover the various unorthodox destinations and peoples that sparked my interest. Endangered tribes, oppressed cultures… My album on North Korea got more than 2 million views, so that's 2 million people who might now see this country in a different light. In a strange way, I think that gathering all these photos from around the world helps us empathize and see the beyond the headlines to the humanity in all of us.
Why does portraiture appeal to you?
I prefer to take photos of people because I have a hard time conversing with landscapes, trees, or cats! Sometimes a photo can say much more than words. Recently, I photographed Syrians in Iraqi refugee camps and to me, their faces communicate far more than any text could. In their eyes, we see the toll the conflict has on civilians. It's concrete, tangible evidence to the atrocities of war.
How would you describe your style?
Technically, I shoot a lot at a shallow depth of field, 1.4 or 1.6 aperture. Doing this while focusing on the eyes really brings out an element of soulfulness in photos. The effect is really nice, but you have to shoot loads of photos to get one that's tack sharp.
My style isn't academic since I've never taken any courses or read any books on photography. Often, aspiring photographers ask me technical questions that I can't really answer. All the cameras have the same functions, only how we use them really differentiates us as artists.
I work really quickly. A portrait usually doesn't take any more than 30 seconds. You can check out some short videos on how some of my photos came to be on the Behind the scenes section on my website.
Despite the fact that I've shot photos consistently for the past two years, I still have a small feeling of anxiety when I photograph someone because I know that at any moment I might be annoying them. In developing nations, people work long hours to survive, so some are understandably bothered when I want to interrupt their livelihood for a photo.
Is there a particular time of day that you prefer to take photos?
I'm not really one of those photographers who only goes out and shoots at the golden hour. I like to make the most of the limited time I have in these countries, so I shoot throughout the day, adapting to the quality of the light. When the light is too harsh, I shoot inside or under the shade. A simple doorstep can become a great photo studio with a black background if the light and angle are right.
I mainly shoot with my Sony A7R on fully manual mode. I really love the electronic viewfinder on this camera, because it let's me see the exposure before I even take the picture. It shows changes to the shutter speed, aperture, and ISO in real time.
Before the Sony, I can't tell you how many times I missed an amazing moment because I had to check my exposure on the screen afterwards to make sure my settings were right. Things happen quickly in the world so every second counts.
I always bring a 24-70mm lens, which I find very versatile. I can use it for either street photography or landscapes. I also bring an 85mm for portraits. That's really all I need unless I'm going on a safari. In that case, I bring a 300mm too.
I take a minimalist approach to lighting. To me, a beautiful photograph is all about letting in only the light that's necessary. To have moody tints and vibrant colors, unfortunately there's no secret. You just have to shoot a lot, master whatever post-production software you're using, and learn to notice amazing colors when they appear. I messed up a lot of photos before I started to consistently get the look that I wanted.
Do you have a particular technique that you like to use when shooting?
For the most part, I like to shoot without too many bells and whistles. I bought a tilt shift lens a few years ago but now tilt shift filters are available on even the simplest mobile photo app. Nevertheless, I like to shoot with this lens. The experience is at once pleasing and frustrating because the settings are like a chess game. For fans of the manual mode, risk-takers, and those who unafraid to botch a photo, I recommend playing with a tilt shift.
Another technique I sometimes incorporate into my photography is taking long exposures during the day with an ND filter. This is really helpful if there are a lot of people around. For example, I did this at Angkor Wat and it allows my shots to come out without any tourists.
What sort of post-production do you do? 
The post-production work is absolutely key! I shoot RAW (it should be forbidden to shoot in JPG) and then import all my photos to Lightroom. I usually play with the exposure and the blacks to reduce parts of the photo in which the light might be too intense or close to burned out. I don't think you should spend more time editing a photo than taking it. In my experience, that usually means that it just wasn't good enough. Even after I finish touching up a shot, there's still a lot to do. You have to add keywords, captions, etc. It's very time-consuming, but without that, forget any hopes of selling. The photo might as well be in a shoebox under your bed.
Can you tell us about this photo
I met this Pokot woman in northwest Kenya where the local traditions are disappearing under the force of globalization. After taking a few shots with the ring flash, I handed her the light. I think I was just curious to see what it might look like. The whole village was standing around waiting for the flash to go off. I think the look on her face was part anticipation, part "foreigners are so strange." I actually saw her again two months ago. Five years had passed and she still remembered this moment!
What do you like most about Flickr? When did you hear about it for the first time?
I started Flickr in early 2006. A friend told me to post some photos, just to share. It was somewhat of a strange idea to me at the time. What I like the most about it is the responsiveness and overall intelligence of the community. I tried a few other photography social networks but a good portion of comments were offensively stupid, if not flat-out racist. I've never had to block anyone on Flickr for reasons like that. Even though the network has grown, I still feel the element of community. I just wish I had more time to spend responding to comments.
What other Flickr members or Flickr groups are you most influenced by and why?
I wasn't really influenced by another flickr member but since the beginning I've followed a few people with amazing talent who eventually also became pros. Maciej,with his street photos, and Claude Renault,who knows India like the back of his hand. Both have an amazing sense of composition and ability to capture the decisive moment. It may look easy, but it takes a lot of patience and hard work.
Which one of your photos do you like the most and why?
Usually, I try to answer this with a recent photograph. I like this one a lot:
Technically, it wasn't easy to take since it was shot in a hut (1/60, 2500ISO, f2.8, Sony A7R). She really shows the disposition of the Himba in Namibia who maintain their traditions against the force of globalization. I asked this little girl to show me her bed. She doesn't even have one.They are also among the nicest people I've had the pleasure of encountering.
It's the type of photo that requires both the subject and photographer to stay very still (I took it without a tripod). The subject has to have an emotive facial expression and the relationship between the person and their environment has to add to the poignancy of the photo.
What three photos of other members of Flickr do you like the most and why?
So among my 1605 favorited photos, these might just be my very favorites:
Maciej is one of the best street photographers who also started on Flickr. His sense of composition is truly exceptional.
I love the mood, colors, and minimalist light in this photo. I also feel a powerful relationship between foreground and background. It's a beautiful photo of Muslim women from Sudan that pushes the viewer to look beyond the preconceived notions.
This shot is from a place in South Sudan that is inaccessible due to the war. I really want to find a way to go visit these cultures that have kept their rich traditions.
Are there other aspects of photography that you are passionate about?
I would really love to take photos with old large format film cameras but I've had a lot of problems with police and customs agents at airports who find my film. Professional photographers are not exactly the ideal tourists for oppressive governments.
I'd also love to find a Polaroid camera that takes 40x30cm photos. I think there are only a handful that exist in the world. We can always dream…
If you had a secret to share in terms of photography, what would it be?
My biggest secret is finding amazing subjects, interesting people who are open enough to pose for some foreign photographer. Without the "models" that I find in the streets, villages, mosques, churches, markets, bars, etc, my technique and so-called "talent" would be worthless. So the most important consideration for me is what or who I put in front of my camera.
There is one thing I do that makes a lot of people happy. I bring a polaroid camera and take portraits of people that I give to them as a small token of my appreciation for their time. Often in the poorer or lesser-visited countries, this polaroid will be the only photo someone has of themselves. I believe we should give a little when we take, so I'd say reciprocity is one of my secrets.
"In five years, I'll be…"
Still on my quest to find the most beautiful tribes, endangered ways of life, and places not yet washed away by the tidal wave of globalization. And of course, I'll still be posting on Flickr!
In addition to his photostream, you can find Eric Lafforgue's work on his website and on Facebook.