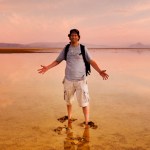 Grant Kaye has been surrounded by photography since he was a toddler. Born in Hawai'i and based in Truckee, California, he followed in his father's footsteps and went into photography at an early age.
"Dad taught me how to use his medium format camera system, and eventually 35mm while I was in high school in the 1990s. I was always carrying around a camera in college and grad school, but I was mostly taking snapshots and not really seriously studying the art of landscape photography," he said.
It was not until his adult life that photography really became a passion for him. "I picked photography back up in 2008 when I had a 9 to 5 office job. My job wasn't very creative, and I literally got moved into a closet two years in. Photography became my creative outlet since I didn't even have a window to look out of." He has now become a full-time commercial and landscape photographer and teacher.
Grant takes long-exposure photos of landscapes and the night sky in different locations around the world. He says his approach to long-exposure always starts with imagination. "With long exposures, we are moving beyond the realm of documenting visual reality and into the artistic area of impressionism, because we are combining our imagination with the use of technology and gear to create something that we can't see with our eyes," he said. "I spend a lot of time dreaming up shots, and then studying maps and the motion and timing of the moon and sun in order to be able to place myself at a location under the right conditions to make a shot I have foreseen in my mind"
He says he always uses a sturdy tripod to create a stable platform for his camera, a full-frame DSLR, as well as a cable release, some fast, sharp lenses and apps that help him understand the perfect timing for his photos. "Some shots require the use of more advanced techniques like multiple frame blending, where you make two different exposures for the sky and the foreground. Some require light painting, some require stacking many frames," he said.
For shooting "Tungsten Hills Star Trails" photo above, Grant found a location near the city of Bishop, California, that had a large number of abandoned mines, called the Tungsten Hills. He illuminated the minerals with UV-C light to trigger fluorescence. He got the inspiration from the work of Floris Van Bruegel and he was aided by knowledge he gained in his former career as a geologist.
The finished image consists of many different photos composited into one.
For the "Mendenhall Glacier Panorama," Grant hiked on a trail for several hours in the pre-dawn darkness while on a one-day layover in Juneau, Alaska (immersive Gigapan experience here). After a two-hour shoot, he decided that it would be better to include a person in the picture to show the scale of the scene, so he found a good place in the composition for himself and stood there looking up at the roof of the cave. "To me, this is a special photo because the glacier is retreating so fast due to global warming, that the cave will probably be gone in a few years," he said. "I would love to be able to visit more maritime glaciers and document their ice caves before they disappear forever." He used a Nodal Ninja panoramic head to achieve this shot.
Grant has traveled to many different places and says the most beautiful landscapes he has captured are in Alaska and Iceland. "One of the most important aspects of nature photography is light, and one of the most appealing things about shooting in those two locations is that due to their high latitude, if you time your visit right, the twilight 'golden hour' and even the sunset can last for several hours," he said. "And in the wintertime, the days are really short, so your chances of seeing aurora are high."
Grant shoots various types of landscapes, such as mountains, glaciers, volcanoes, deserts, all in interesting and spectacular settings. "I am drawn to high-contrast, colorful, grand landscapes in places with little or no light pollution." He particularly likes the night sky, where he says "the trick to really making high-quality, compelling nightscapes is finding interesting foreground elements and knowing when to use or not use moonlight."
His plans for the summer include Milky Way single frames, over/under captures and panoramas around the Tahoe area. Check out his Flickr photostream for more unique photos and be sure to engage with him if you want to learn more.