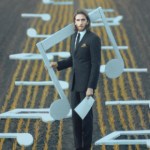 When you look at Oleg Oprisco's stunning images, you just know he's one of those Photoshop whizzes. How else could he get these folkloric, fantastic scenes without compositing? That stack of books 20 feet tall, that woman balanced atop a narrow pinnacle at the ocean's edge, that tree full of cuckoo clocks -- there's no way that's not digitally altered, right?
Surprisingly, the young Ukrainian fine-art photographer takes his astonishing photos with the only help of a low-budget medium-format film camera he bought for $50. He builds all the props and scenes in his images. And he gets incredibly creative when lighting dozens of umbrellas on fire, for example, so that he doesn't burn his model.
Oleg started photography when he was 16. He began working as an operator for a small photo lab in the city of Lviv, in western Ukraine, where he would color-correct thousands of photos a day. "I think it was then that I understood what kind of colors I liked, and what type of color combinations people liked." It was at that time that he acquired his first camera, a Nikon D50, and started taking photos of friends and acquaintances.
At age 19, he moved to the capital, Kiev, and became the assistant to a well-known advertising photographer. "We worked together for three years, but that work didn't bring me pleasure. There was no creativity, only commerce," so by the age of 23, he decided to start on his own.
For his shots, Oleg uses medium-format film. He says he likes film for several reasons. First, he enjoys the process of having only 12 frames to shoot, which makes every image count. "You press the shutter button, but don't know what happens because you see the scene before pushing the button and after, but not at the time of the shot. It's a crazy mix of luck, calculation, planning and luck again."
Second, he says, only film can provide the quality, unique colors, and depth-of-field he likes. Finally, he says, shooting analogue is an enjoyable experience. "I like the situation when, on my workshops, my students come with a set of equipment of three to five thousand dollars, but then they see that I use an old camera Kiev 6C (which costs about $50 at a flea market in Kiev). It makes us think that technique is just a tool like a pen or a brush."
Oleg designs most of his props and sets and all the effects in his photographs are real. "I'm used to doing everything myself. I don't have assistants, so sometimes the preparation for the shooting takes several days and it's accompanied by many experiments, test shootings… For example, the frame with a burning umbrella [above] was taken on the sixth day of shooting. I used more than 50 umbrellas, because I could not choose a combination of materials that made the umbrella burn beautifully and be safe for the model at the same time." he explained. "The same story applies to each frame. I love this process, even when I realize that some effects are more easily drawn in Photoshop."
He says the most important part of his work is setting a target and planning the final result. These are beautiful examples of Oleg's work in which the only alterations in post were minor color-corrections during post-processing.
The birdhouses in this picture are made out of cardboard and wood.
Behind this shot there was complex system designed to help the model ascend and descend from the hill safely. He says it took him a week to get everything ready.
The bags in this picture were carefully picked after a week of walking around various markets and galleries. "[This] has some retouching, to remove the branches around the model," he explained. "It's an old picture, so the post-processing work is not very accurate."
The field in this photo has been the setting for many amazing Oprisco masterpieces. "This place has great potential. I can create the concepts I have in mind and interact infinitely with it."
Flickr first reached out to Oleg a couple years ago, but our interview was postponed due to the political chances that swept through his country in February, 2014. As most Ukrainians, Oleg feels that the changes in his country have had an impact on his life.
"The effects of the revolution can be divided into two parts. First, it was a very difficult period of struggle against injustice and corruption that truly united the people and instilled confidence that the changes would be very fast. It changed every person's mind," he said.
"This gave a strong impetus to the development of local art, especially music. A lot of public and voluntary organizations that are now playing an important role in helping vulnerable people appeared by then…," he explained. "Unfortunately, the political parties that became authorities did not meet the expectations and everything happens very slowly. But hope is still alive and we continue to believe the best."
Please explore Oleg's Flickr photostream for more inspiring work and connect with him. Also be sure to also visit his website and Facebook page for more information about his work. If you are inspired by his story, pick up any camera you might have laying around and begin sharing your vision with the world.