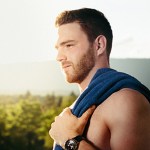 About two years ago Niels Oberson, a car enthusiast living outside Bern, Switzerland realized that driving the exquisite and serene mountain roads of the Alps wasn't enough to escape the monotony of his office job. He needed to capture the scenery to understand his place in it.
"I like to drive nice mountain roads," Niels explained. They're "a nice backdrop for car photos."
When his brother purchased a DSLR camera two years ago, Niels was impressed with the shot quality and knew instantly he had to step up his game.
"I was impressed with the quality of his photos and thought I might be able to do that as well."
'Do that as well' indeed. Niels is one of Flickr's up and coming landscape photographers because his work leaves an impression on you. Ranging from dramatic mountain roads with dark, looming clouds and rich green colors to serene pastel piers, he has had multiple images reach upper Explore echelons.
"I mainly like two things that are quite the opposite of each other. On one hand is the love for dramatic skies and massive landscapes. That shows how small we humans really are. On the other hand I'm also always looking for calm and simple things like piers, roads or fields."
Sometimes his photography requires patience. He'll drive to a remote lake and wait for the right cloud/lighting situation to appear and spend over an hour only to get one shot. Other times he'll see a situation and scramble to capture it.
"One evening I looked out of a window at home and spotted the sun shining beautifully through the clouds. So I literally thought "Holy Cow" and immediately went to the location. I had to lure the cows with fresh grass from outside their fence so they lined up perfectly with the light rays. I was quite lucky that they stayed there when I stepped back with my camera to take the shot."
Sometimes it's patience and sometimes it's his intuition that make his captures amazing. Either way, he's on the right track. Since he's only been playing around with photography for a little over a year, Niels finds inspiration from all kinds of car, nature, and lifestyle photographers. He finds feedback and photo critique in some of his favorite groups, where he has learned many of his photo editing and composition techniques.
"I love to browse through Flickr and pick photos that I think look amazing … Then figure out what makes me attracted to them and translate it in my own style the next time I'm out with my camera."
Explore Niels' Flickr Photostream for more of his work and connect with him there. You can also find more of his street landscape or car photography in Explore, on Facebook, or Instagram.