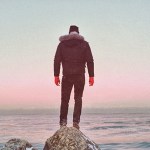 Standing next to a vast, open expanse of nature is one of the easiest places where a soul can still and a heart can open. For Matthew Lief Anderson, huge skies and stellar landscapes are something else - building blocks for captivating photo collages.
"I was getting more love from my collage photos than anything else I had ever taken," Matt explained in an interview. "Other people would get angry and accuse me of photoshopping the images. It made me laugh. Of course they're photoshopped! It's a collage!"
It's not like he's trying to get away with something, passing himself off as a world renowned landscape photographer with dozens of cameras at his disposal and gigs and gigs of long exposure on his memory card. No. He's just a wanderluster chasing that cosmic look that's oh so popular with younger photographers. Lately the look has also become popular with lifestyle brands, allowing Matt to start turning hobby into career.
Though he is based in Austin, Texas and has only recently begun exploring more of the beautifully vast openness that the American Southwest has to offer, Matt's formative photography years came while he was living in South Korea teaching English.
"I bought a camera with my first paycheck and started obsessively documenting my life. I did a lot of traveling around Asia and … eventually relocated to Vietnam."
Over the next few years he wandered his way through "a few dozen countries" before making his way back to the states.
"I love to experience a mix of cities and nature," Matt explained. "I need to live in the city … I like having access to good bars, food, coffee and a huge variety of artistic people, [but] my favorite places are Java, Indonesia, Morocco, the American Southwest, Northern Burma, and Alaska – places [relatively] untouched and devoid of tourism."
Matthew Lief Anderson on Creating Photo Collages
"I think getting your work out to as many people as possible is important, and different social media platforms have their pros and cons."
One of the main ways of getting your work out there, no matter which platform it is on, is to make it impactful. This will inspire users to share, comment or engage with the work, and inspire brands to buy it (or you).
Though Matt initially started creating collages out of boredom, he hit his stride when a few of his images started going viral. Not just Explore viral, but viral viral.
"I made this piece (above) for Poler," he explained. "When they posted it I got a ton of messages and emails asking about it. The girl is standing in Denali National Park in Alaska, the mountain is Glacier National Park in Montana, and the sky is in the Sahara Desert in Morocco, Africa. It confused a lot of people and it's fun reading the comments of people trying to work out exactly what's going on here."
"I can't shoot the same type of work for too long without exhausting myself," he continued. "I like a landscape from one photo and the sky of another. Why not put them together and add a person into the mix for scale?" Boom. Matt Lief Anderson's recipe for creating stellar photo collages.
"I have a lot of luck mixing landscapes that I shot during the day with night skies and, of course, add a person to the photo for good measure. I think it confuses people that my landscapes are lit so well and they see a moon or stars in the sky."
That confusion, however, makes his pieces intriguing. It makes people fall in love with them. And it makes Matt a real artist.
"This is one of my most viral photos. It's a shot I took from a plane window when taking a flight around Mt. Everest in Nepal. I dropped [in] a photo of my girlfriend that I took in Burma in the middle." With a bit of blending and Photoshop work it came together.
One comment reads 'Lovely image but damn, I hope people aren't believing that's a legit shot. About as shopped as they come.' Matt's response?
"I don't know what makes a piece of art 'legit' but it's fun to see my followers get confused."
Matt is generally organic when taking photos and collecting pieces for later works. He recommends traveling or hiking with a few friends so you can always tell them to stand somewhere for perspective, providing scale to the natural wonders of the world. Also avoid harsh light.
"Most of my best work was shot at sunrise, sunset, or under the moon and stars."
https://www.flickr.com/photos/mattliefanderson/24150497464/
Aside from traveling the world, Matt also just finished shooting a lookbook with a friend of his in Austin that he met via Flickr years ago, Keith Davis Young. He also just concluded a project with Reuben Wu, a long time Flickr friend of his, and recently joined another Flickr friend, Luke Byrne, in his new project 'The Adventure Handbook'.
This fall Matt will be photographing the Pitchfork Music Festival in Paris, working with Vice music, and introducing some aerial drone footage (both for music festivals and dramatic landscape footage).
"I've been planning a Mongolia trip for a long time now." We certainly look forward to seeing the fruits of that trip.
To see more of Matt's work check out his Flickr Photostream to connect with him or view/purchase his concert series and portrait work on his website.