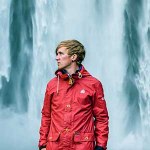 "I've never struggled so much to capture one picture," Matthias Dengler explained. "This adventure was the starting point of my photographic career."
He dreamed of photographing the unique overlook for quite some time. During a six month stint living in Norway he knew he would have few opportunities to reach his destination. He made it part of his morning routine to check weather reports for the perfect day. One morning it was clear. The rain would break for about a day. This was his chance!
Matthias, a 25 year-old German photo-retoucher now living in Poland, knew as he crested the mountain after an exhausting day that his timing couldn't have been more perfect. After four bus transfers that day, followed by hitchiking with a couple of German guys he had to ditch on the trail because of their slow pace, ultimately running the last few kilometers of the 12km trail (with full camping gear on his back) to reach the Trolltunga overlook near Odda, Norway just as the sun began to set on one of the only clear days of the season.
"It literally rained every single day for months. I was afraid I'd never make it to Trolltunga," Matthias laughed. He did make it, all in the quest to get a different shot. That's when he realized dedication was worth it and a new outlook on his photography career was born.
Matthias Dengler's Fear of Settling
"I've had a lot of jobs – accountant, translator, tour guide, journalist, retoucher – but I've also learned a lot." With the goal of becoming a full-time photographer and earning brand sponsorships to assist with his travels, Matthias currently shoots a combination of city, fashion, and outdoor photography.
Matthias grew up in Germany and lived in various parts of the country. After two years of studying in Frankfurt he left for Poland, where he continued to explore the most beautiful parts of the country while living in Gdansk, Sopot, and Gdynia. Currently back in Gdansk after six months in Norway where he makes his living as a retoucher for a fashion retoucher and is a freelance editor.
"For me living abroad lets me feel alive," he explained. "You meet so many people and learn so many things no university could ever teach. I can settle down when I run out of power one day, but I want to see the world and capture all its beauty on my way … want to inspire people to find what makes them happy … to travel and push themselves."
Where he grew up in Germany, and even more so in Poland, there is an intense pressure to follow a standard path (or rather a complacency to): graduate high school, study, master, start working, get married, and after getting an unlimited employment contract have a child, buy a flat, settle.
"Most of the time people go the direct way of life without even thinking about another way. I don't get it. The fear of settling down drives me to travel."
Matthias' drive to travel is equally as strong as his desire to improve his photography technique. Knowing all the ins and outs of editing, the bigger challenge comes in "pushing every image to its limits" naturally, a photography approach he has studied from Elia Locardi.
"On Flickr you find so many different and much more creative approaches to photography. And when you show positivity you gain positivity," he explained, a lesson learned from the people in Norway.
When Matthias finds new places from Flickr or travel blogs he maps them out on Google and adds them to a shortlist, researching various great shots that have been taken there on Flickr and what could be taken there. Other platforms frustrate him. They're "full of pictures taken at the same prestigious place from the exact same position and with the same composition. So it's absolutely boring. That's why I love Flickr so much!"
Recently he's begun sharing more of the day to day and behind the scenes process of shooting and editing on Instagram using the Instagram Stories feature.
"There are so many bad photoshop composites out there that are obvious and cheap. I see Milky Way pictures all over the place which are pure copy and paste … Instagram is a blog replacement for me."
Matthias has manually toiled and engaged with his FlickrFam to improve (and help them improve). They don't get complacent. They encourage, critique, and they work.
"Flickr is always the most important because I want to attract other photographers who can appreciate quality. I only have people who appreciate my work (organic followers) and who wait for my daily uploads."
And eventually he hopes to attract brands that have an understanding and appreciation (and budget) for hiring quality photographers. "When you show positivity you gain positivity."
Matthias' Litmus Test – Water
Matthias already knows how to edit. Self-taught and rather skilled, his focus now is on capturing nature or cities from a different angle and perspective that make the viewer question what reality they're seeing (without photoshop).
"What exactly is reality," he questions. "I can't fully understand a place in a photograph because once you capture it the 3D world loses a dimension. It's already not reality, at least no more than a dog's reality is in black and white while ours is in color."
For a long time Matthias wanted to live near the sea because water is a substance that can be transfixed and transformed by a camera.
"I love the power of water and all you can do with it photographically. Long exposure allows me to show nature in a way the human eye can't see it. [With skill] I can smoothen out waves, give rivers a dreamy, milky look, or use lakes as a mirror for reflections. Everything just pure nature, straight out of the camera, no photoshop."
To hear him describe it and looking at his examples it's clear that water photography isn't something everyone can do. Epic waterfalls, serene rivers, and dreamy fjords are Matthias' litmus test.
"It let's people know that I'm legit. It takes timing, lighting, patience, and your own creativity at the place itself."
Either way, on a mountain or by the sea, Matthias finds refuge in nature. It's a "resort," to camp on a spot once the crowds have dispersed and experiment with his camera, taking in the massive impact of the natural environment.
Life Lessons Matthias Hopes To Champion
Don't take the same shots as everyone else. Make them your own!
Embrace discomfort. The discomfort of learning, travel, uncertainty will pay off in the end if you're working hard to perfect your craft. Be dedicated.
Show positivity; gain positivity.
View more of Matthias Dengler's photography on his Flickr Photostream. To buy prints, download his ebook, see more of his retouching visit his website: Snapshopped.