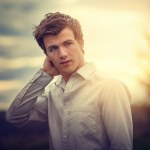 French photographer Dimitry Roulland captures the beauty and strength of the human body in a manner so captivating and graceful that it's difficult to look away. His models —mostly dancers, acrobats, and gymnasts— twist and turn in near-impossible poses, blending in with the landscape.
Dimitry is a 25-year-old photographer based in Limoges, France. Now a full-time freelancer with a very extensive portfolio, he became interested in photography at age 17. "I used my parents' camera. I didn't like school at that time and photography was an amazing way for me to communicate."
Dimitry's models are artists and athletes of different ages and performance levels. Most contact him and book him for personal shoots for their contact cards, social media, and portfolios. He likes to work closely with his models to build the desired mood and ensure that they feel comfortable with his style. Every session is improvised. He'll scope out some venues and go there with the model to force them to engage and remain creative. "I always try to make the model interact with the environment to create something really aesthetic."
Dimitry has always been a creative person. "When I was younger, I liked to create original self-portraits. I was inspired by TV series like The Walking Dead and Dexter, or by other photographers like David Olkarny or Julie de Waroquier."
His interest in body-arts photography started a few years ago when he met his namesake, a model named Dimitri. "It was the very first session I did with a gymnast and I really liked it! That was the beginning of a beautiful story," he said. When he's not shooting in scenic cities like Paris, Montpellier, Bordeaux, or Toulouse, he's at home doing the post-processing work.
We were drawn to Dimitry's work because of the beautiful French landscapes he chooses as backdrops for his carefully-composed images and for his ability to perfectly capture the harmony of a body's movements.
To create these dreamy photographs, Dimitry likes to work in semi-manual mode, using a large aperture to blur the background. "I work only with fixed focal lengths: the 24mm 1.4, the 50mm 1.4 and the 85mm 1.8.," he explained.
Follow Dimitry's Flickr photostream to discover more beautiful images of ballerinas, yogis, and circus artists and to find out about his next photographic project coming up in 2018. Stay tuned!