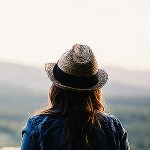 Gabriela Tulian is one of those inspiring photographers whose work makes you want to pick up a camera, go out, and shoot. She transforms emotions and memories into candid images that illustrate many of life's subtleties. Originally from Córdoba, Argentina, she moved to Montreal in 2001, where she lives with her husband and daughter.
Gabriela originally trained to be a chef. She never considered photography. Cooking was her main passion. "I come from a family of business people and art was not common in my house when I was a child," she explained. "My grandmother was the only creative person in my family. She sewed wedding dresses and was an excellent cook. At that time, I collected recipes and, as a teenager, I spent the evenings cooking."
In 2001, amidst the turmoil of social and economic crisis in Argentina, Gabriela decided to step away from her career as a part-time chef. Later in the year, she mustered up the courage to move to Montreal, Canada. Once in Montreal, she opened a small gourmet food cafe and market. Everything started off fine, but then she realized she needed some commercial photographers to help her market her products.
After several years of working with costly professional photographers, Gabriela's husband bought a camera and encouraged her to take the photos herself. "In only a few weeks my interest in photography grew exponentially, and those commercial photos fell into the background. I was discovering something much more important, a different form of expression."
Where previously her products were being interpreted by other photographers, Gabriela now had the confidence to represent them as she wished. From that point on her skills began to develop. Now she photographs everything from portraits and landscapes to food, animals, and children. In the trend of lifestyle photography, Gabriela's photos follow suit, reflecting more than just the products of her life, but their place in her life. "Photography is a sort of therapy for me; it is a means to share my perspective on things, while keeping me attentive and focused." She doesn't want to specialize yet and aims "to continue experimenting."
"During my creative process, I always try to listen to my intuition over reason because that gives me better results." It's too easy to get bogged down in the technical details of photography, she explained. When it comes down to what, how, when, and where to shoot Gabriela goes with her gut. She finds moments, like when she's looking at a landscape, a small object, or notices a particular bit of lighting she likes. Gabriela feels that without a passion for the thing you are shooting, the how you shoot becomes somewhat irrelevant.
"When it comes to photography, there are many rules that we can choose to follow, but I need to follow my gut feeling."
"In this image, I lowered the saturation and set black to the minimum, and then I cropped it. It took me three seconds, and the image turned out as I wanted." She says the image would've been discarded had she followed the consistency rules that strangle so many lifestyle photographers. Her 'brand' of photography isn't so narrowly focused. The vast majority of her photos are in color.
Gabriela's daughter, who is the model in many of her pictures, echoed that her mom's camera is a major part of the family's life. Gabriela thinks it's important to capture her daughter's childhood and knows that these portraits will become tomorrow's precious memories. "I try to photograph her as is, without asking too much of her. Sometimes I just ask her to stay quiet for a second or to move to the side, that's all."
Gabriela works with natural light, which can be tricky sometimes, especially for someone who lives in a northern country and has to deal with short daylight hours. "With practice, I've gotten to know my environment and what is the best light at different times of the year, and to look for solutions that allow me to keep shooting." When she shoots inside, she uses a tripod and takes advantage of the natural light sources like windows, to which she sometimes applies a filter. "To me, it's important that the image looks as good as possible straight from the camera, without having to do thousands of fixes while editing later."
Gabriela just returned from a trip to her home in Argentina, where most of her family still lives. In the coming months, she plans on taking some specialized photography courses and putting out some new projects like the shooting of a few local artists and models from Canada.
Be sure to follow Gabriela's Flickr page to see the world #ThroughHerLens and tell her what inspires you the most about her work! Gabriela has been active on Flickr for a very long time and has made a lot of great amigos here. She invites you to connect with her and become a new one. :) <3