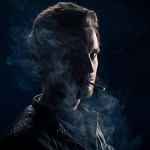 There are surreal qualities and innate intensities that become part of a photo when you get in someone's face to capture the shot. Much like celeb paparazzi, street photographers carry an internal drive to capture candid images of unique characters and places. Gareth Bragdon, a 27-year old photographer based in Edinburgh, Scotland, is a street photographer worth watching.
Along with his older brother Gavin, 32, Gareth roams the streets of Edinburgh with his camera in one hand and flash trigger in the other. The Bragdon Brothers, both photography students in their last year at Edinburgh College, have developed a unique style to their street photography that has started getting the attention of major brands across Europe.
Edinburgh Hunting Grounds
Edinburgh is a special place for the Bragdon Brothers. "We fell in love immediately. Edinburgh is like going to Disneyland with less cheese (read cheesiness)."
Like a hunter leaving his den, Gareth ventures out to two main locations in town to search for people to shoot. Princess Street, a long avenue of shopping malls and retail stores, is one of his favorite venues to shoot.
"That's where you get your character crowds. It's ideal … where the magic happens."
His other favorite place to find characters is the Royal Mile that connects many of Edinburgh's iconic and historic landmarks. The tourists are particularly fascinating for him to find. It's along the Royal Mile Racetrack that Gareth captured what he calls his "best mistake."
The 'Red Line Woman' was a perfect storm that led to a photograph he didn't think was worth anything until he saw it on his computer later. A sudden downpour, quite a common experience in Scotland, forced a fashionable young woman to run into a phone booth. Gareth saw her from far off and, almost instinctively, he ran towards her.
"You know a photo when you see it. She was a bit shocked when I shoved the camera in her face. I thought the shot was a bust, though, because my flash didn't go off."
Only later did he see that it wasn't a dud. Though most of his photos feature dramatic contrasts in color and lighting, the softer tones caused by the higher exposure made this photo a stand out from the rest. This photo also drew the attention of curators in Italy prior to Venice Fashion Week and earned the Bragdon Brothers an invitation to run a street photography workshop focused on fashion week and carnival.
Becoming A Streettog
Getting in people's faces with a trigger flash wasn't something Gareth naturally took to. Though he began his street photography on vacation in Malta with a disposable film camera, it wasn't until he joined Flickr that he began to find confidence in the community of streettogs.
Paul Cruickshank, a friend Gareth has made through Flickr, has been an advocate that helped Gareth push his style.
"I originally had a huge confidence issue … Paul's work is confrontational. He gets in really close [to his subjects]. That look really really grabbed me."
Gradually, as he experimented and practiced more, Gareth became more confident in his technical capabilities.
"I got more comfortable getting in people's face. It's a weird, surreal thing to view how they change before and after the flash. After I overcame that fear I caught the bug. I felt alive, like I was doing something [that mattered]."
The ability to control light and change shadows is what adds to the contorted, surreal look Gareth goes for. Eventually, he bored of simply shooting in black and white. With fashion and unique street characters, it wasn't until finding an older lady's scarf/hair contrast that he knew he couldn't edit it to black and white. A new dimension to his photography was born.
"My online community of street photographers pushed me. Shooting in color, however, is different. To shoot in color you need to start thinking in color. It's totally different than thinking in black and white," he explained.
Shooting Peacocks & Sausages
Looking through his work, a few trends stand out in Gareth's subjects. As you see the transition from black-and-white photos to color photos, you'll see the importance that clothing plays in his approach to his subjects.
"It's just so fascinating because women will dress like peacocks. I'm fascinated by it."
When he sees an outfit from afar he picks up his pace to get near the subject in an interesting area. *FLASH* The image is captured, the subject a bit surprised, and then he walks away just as smoothly as he approached … a perfect kill shot!
Through his work, you'll also notice the unique character that a person's hands exhibit. Gareth's fascination with hands and capturing their detail means he has to get the camera much closer to the subject.
"Shooting hands wasn't really intentional, to begin with. Originally the best shots that were hands just happened by accident. I just find it weird and surreal how we decorate them. They're what make us human."
Like this photo:
The gold rings on this subject's hands were graphic. Gareth came across this man while searching around for unique characters on the streets during Scotland's Independence Referendum.
"I had to stop this guy. This is one of my few photos where I actually asked the subject to pose. Look at the rings! These big rings on these weird little sausage fingers. It's surreal!"
Bragdon Brother Workshops
Following their Carnival Workshop in Venice, Gareth and Gavin have started offering more street photography workshops.
Next week they are hosting a workshop in their home hunting grounds in Edinburgh, on April 15. Next month the Bragdon Brothers will be hosting a workshop in Paris, May 14-17.
Explore more of Gareth and Gavin's work on their Flickr Photostreams or sign up for a workshop on The Bragdon Brothers website. They also have prints available for purchase via their website.