Everyone has a visual story to tell. Up until now, many of Flickr's members around the world have been limited to sharing their photographs and stories on Flickr via desktop, and only desktop. We're excited to announce that the Flickr App is now available in dozens of new App stores across the globe, for both iOS and Android.
Now, even more, photographers worldwide will be able to upload their photos on-the-go and put their 1000 GB of storage to use. Whether they're using their tablet to document their travels to a new country or snapping photos with their phone in their hometown, sharing photographs with friends, family, and the Flickr community has never been easier. We're thrilled to invite Flickr members in the regions listed below to enjoy the app experience.
The most recent 4.3.0 release gives you the ability to add a photo to multiple groups, making it much faster and easier to get more eyeballs on your photos. All you have to do is select the groups you'd like to add the photo to, and as long as it fits the groups' posting rules/limits, it will be added to all of them. With this release members also gain the ability to add tags to others' photos, granted that person's settings allow it.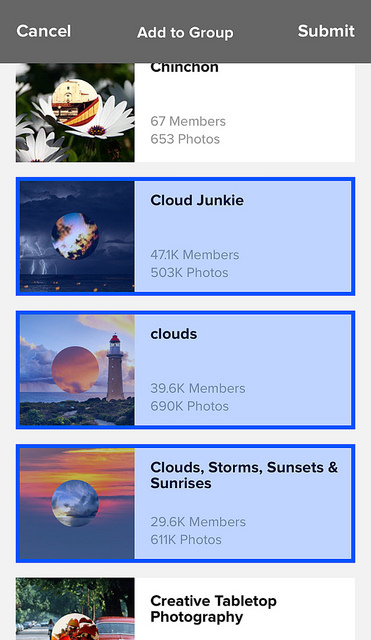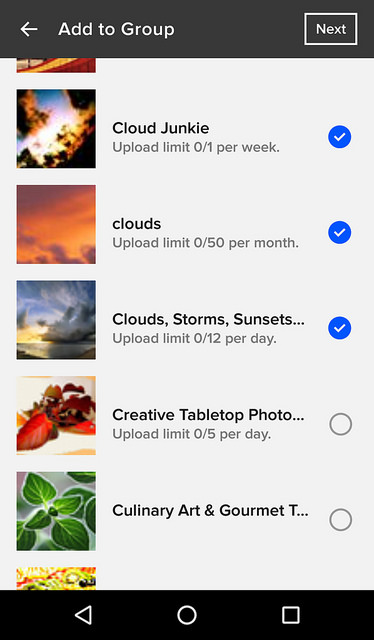 Go here to download the Flickr iOS App or Flickr Android App.
The next release will introduce a whole new dimension to the mobile experience for Groups! Keep an eye out for the 4.4.0 update! :)
New Countries Where Flickr for iOS Is Available*:
Albania
Algeria
Angola
Anguilla
Antigua and Barbuda
Armenia
Azerbaijan
Bahamas
Bahrain
Barbados
Belarus
Belize
Benin
Bermuda
Bhutan
Bolivia
Botswana
Brunei Darussalam
Burkina Faso
Cambodia
Cape Verde
Cayman Islands
Chad
Congo, Republic of
Cyprus
Dominica
Fiji
Cambia
Ghana
Grenada
Guinea-Bissau
Guyana
Kazakhstan
Kenya
Kyrgyzstan
Lao People's Democratic Republic (aka Laos)
Liberia
Macau
Macedonia, The Former Yugoslav Republic of
Madagascar
Malawi
Mali
Mauritania
Micronesia, Federated States of
Moldova, Republic of
Mongolia
Montserrat
Mozambique
Namibia
Nepal
Niger
Nigeria
Oman
Pakistan
Palau
Papua New Guinea
Saint Lucia
São Tomé and Príncipe
Senegal
Seychelles
Sierra Leone
Solomon Islands
St. Kitts and Nevis
St. Vincent and The Grenadines
Suriname
Swaziland
Tajikistan
Tanzania, United Republic of
Thailand
Trinidad and Tobago
Turkmenistan
Turks and Caicos
Uganda
Uzbekistan
Virgin Islands, British
Yemen
Zimbabwe
New Countries Where Flickr for Android Is Available*:
Albania
Algeria
Angola
Aruba
Azerbaijan
Bahamas
Bahrain
Bangladesh
Belarus
Belize
Benin
Bolivia
Bosnia and Herzegovina
Botswana
Burkina Faso
Cambodia
Cameroon
Cape Verde
Côte d'Ivoire
Fiji
Gabon
Ghana
Guinea-Bissau
Haiti
Iceland
Kyrgyzstan
Lao People's Democratic Republic (aka Laos)
Mali
Morocco
Mozambique
Myanmar (Burma)
Namibia
Nepal
Netherlands Antilles
Niger
Nigeria
Oman
Papua New Guinea
Rwanda
Senegal
Tajikistan
Tanzania, United Republic of
Thailand
Togo
Trinidad and Tobago
Tunisia
Turkmenistan
Uganda
Uzbekistan
Yemen
Zambia
Zimbabwe
* Languages Supported:
English, French, German, Indonesian, Italian, Korean, Spanish, Portuguese, Traditional Chinese, Vietnamese