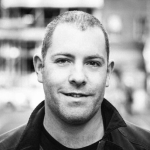 Conor MacNeill recently quit his day job in tech to become a full-time photographer, only three years after picking up a cheap DSLR for the first time. The Irish photographer, currently based in London, fell so deeply in love with his craft that he was willing to risk the stability of the rat race to pursue his dream.
And he has big dreams — Nat Geo, if you're reading, he's easily reachable! Big talent too. Just look through his photostream to be awed by his amazing nature and travel photos. What astonishes us is that, until recently, he's built this impressive portfolio in his spare time while on vacation.
Attributing his rapid improvement in photography to a "thirst for knowledge," MacNeill admits he's not proud of all his photos. "My early work, as with most people's, was pretty dreadful!" he said. But with the help of his friend Greg Annandale and a passion for the beauty around him, MacNeill learned the craft and traveled to amazing places. He has also begun teaching workshops around the world, two in Iceland this week (alongside Greg Annandale and Dan Rubin).
Read on for an extended interview with Conor, and explore his world.
What has been the most difficult part of the transition away from a full-time tech job?
I'd be lying if I said it didn't scare me! I've found the most difficult part of making photography a profession is how difficult it is to get paid. People tend not to buy prints anymore, while the whole licensing market has gone downhill in my opinion. A lot of companies really don't want to pay much for good photography these days, as so many people do it. The market has really become saturated.
The most fun part of becoming freelance has been the realization that I can go on photography adventures whenever I want and not have to worry about booking time off from work! In the past, I'd fly half-way around the world to shoot a particular location, but only get to spend a week or two there due to a lack of vacation days. I'm now looking forward to being able to spend weeks or months in a particular spot and hopefully get even better results than before.
Can you tell us more about the workshops you teach?
I started teaching photography workshops for a couple of reasons. The main reason was simply the amount of questions people asked me about my work, especially through a community-driven site like Flickr.
I got (and still get) a lot of questions through FlickrMail, asking not only how I take my shots, but also how I process them. I try and answer these as best I can, but I often don't have the time to go into as much detail as I'd like, hence offering workshops and private tutorials.
My day-to-day teaching is in the London area, but due to my love of travelling, I've taught in other countries, such as Malaysia, the USA and Iceland. Wherever I am, I'm willing to impart what knowledge I have and give people a glimpse into my workflow. I've actually started a photography expedition workshop (alongside Greg Annandale and Dan Rubin) where we run courses in different countries for all levels, including not only the on-location shooting, but post-processing and smartphone photography seminars.
What has been the craziest adventure you've gotten into because of photography?
It's difficult to narrow down just one adventure to be honest. Each trip usually has something of note, whether it's getting caught in a sandstorm in the Moroccan Sahara or driving through Icelandic mountain passes in near-zero visibility.
I think overall, I really enjoyed spending time traveling through China, as the culture there is so different from what I've grown up with. Plus, the scale and beauty of the country is on another level.
Do you have a favorite photo of yours? Can you tell us about it?
I don't really have a single favorite photo, but I have a soft spot for my capture of a cyclist in Yangshuo, China. This was a completely unplanned shot and just pure luck when it comes down to it. I was shooting a tiny stone bridge by a little stream, when this elderly Chinese man in a rice paddy hat came cycling past. I ran up onto the bridge and just snapped away as he cycled off into the distance, knowing that I wouldn't get luck like that again, as it was quite a remote area.
I'm also pretty pleased with my image of the Northern Lights above some horses in Iceland. This was the first time that I had ever seen the Northern Lights, let alone photographed them! A couple of faint, pale bands across the sky developed into one of the most spectacular things I've ever witnessed.
What are the particular challenges to getting landscape shots like yours?
I think there are a couple of major challenges. With each location, you can either get a unique view, which is often a challenge in itself these days, or go for the standard, iconic scene.
With trying to get the shot in the first place, you've got to be prepared to put the work in. Some of my shots happen by chance, but most are because I've done thorough research — finding the best viewpoint, seeing what the weather will be like, what phase the moon is in, etc.
If you go for the well-known shot, which I often do, you've really got to make it stand out. This could be waiting for the right light and conditions, or simply making a common scene really stand out in post-processing.
How many shots do you usually take of a subject, and how many do you have to toss away?
It's hard to really narrow down a figure, as each location is different. It really depends on how the light is changing and all the different compositions I can squeeze out of a scene. On a typical 10-day expedition, I can take between 1,000 and 2,000 photographs over the course of the trip. Of these, I'll perhaps only process and post 5-10 photos.
When dealing with one scene, I might take an exposure for the foreground, one for the sky and maybe one or two capturing movement of things like rivers or blurring out people.
You often have great long-exposures of water? What's your attraction to this type of photography?
I think one of the appeals of capturing long-exposures, especially of water or clouds, is that it captures something almost hidden that the human eye can't see. Often with the sky you never notice the movement of the clouds, but when capturing them in a long-exposure, you can take in just how dynamic and powerful they really are.
I'm also quite taken by the calmness and solitude of some LE photography — looking out at the ocean on your own for for minutes, not having to worry about anything else.
Another added benefit of (black and white) LE photography is that you can turn a grey, cloudy scene into a work of art. If you've spent weeks or months researching a trip, traveled for days to get there, and the weather doesn't co-operate, a 10-stop ND filter can be your saving grace!
What is your favorite part of Flickr?
I think the ease of communication through Flickr is my favorite part. I'm a member of a lot of photo-sharing websites, but I've made the most connections here. I think the Flickr community, especially during my early days, has really inspired me to do better and be more critical. As a beginner, I'd admire other people's work and strive to be as good as that. Now that I feel my work has improved, I can still learn off others, but also help beginners who are starting down their particular photography path and are looking for tips or critiques.
I've been influenced by a huge number of Flickr members over the years, especially in my earlier days and I've actually met some good friends from this site. One of my biggest inspirations has been Dave Morrow, who I've now traveled with extensively. We're not long back from an expedition around the Arctic Circle, and we're now planning to photograph Patagonia next year.
I also recently completed a trip to the West Balkans with Mike Murphy, another London-based photographer who I met through this site.
When it comes to landscape photography, it's hard not to draw inspiration from Dan Ballard, Dylan Toh and Andreas Wonisch. I wish I could take portraits like Anna Theodora and Cassandra Lee. My good friend Jay is a master when it comes to monochrome.
Can you tell us more about this lighthouse shot? Where was this?
This is a lighthouse on the cliffs at Látrabjarg, the most westerly point of Iceland. The shot was actually an unscouted one; I went mainly just to see the puffins that nest on the cliffs. As we were leaving (around 11pm), I grabbed a shot of this against the midnight sun. Completely unplanned, but it turned out well. That's the beauty of Iceland!
This seems like a bit of a departure from your other landscape shots. Can you explain the context?
For photography, this trip was mainly a landscape adventure. I really wanted to get some good Milky Way shots, but when I travel, I'm also hugely interested in seeing the country itself and learning more about the culture and way of life.
Before heading to Namibia, I had envisioned a black-and-white, high-key photograph of a zebra crossing the road, but didn't think it would actually happen!
This is crazy! What? How? No way!
Ha! I often get that reaction about this shot. This was three shots from a plane window, merged together to get the right dynamic range. I shot them at a higher shutter speed than normal so the photos would line up easier and it paid off.
If you had your way, where would you be in another three years and what would your photography look like?
I'd like to be doing more teaching, perhaps leading more workshops and expeditions around the world. Traveling and taking photos while getting paid for it is my goal at the minute.
I think my style of photography will probably be quite similar, as I've been honing it down for a couple of years now. I'm hoping that although my style will be the same, my shots will be more epic! I'll ideally be spending more time in each country and location, so getting the best light and conditions should be easier.
How can we follow along with your adventures?
You can visit my website at thefella.com to find out more about me. I post all my final shots on my photostream, so you'll never miss it if you're on Flickr! Instagram is also a great way to follow me on my travels as they happen.
Thanks, Conor, for your time and for participating in our Photographer Spotlight!