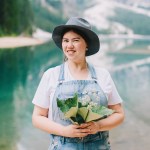 Yuliya Bahr is a full-time wedding and family photographer based in Berlin, Germany. A lover of adventure and new challenges, she got into photography "by chance and by choice," defying those who told her that wedding photography was not "a woman's job." Now, more than seven years and two hundred weddings later, she can only smile about it.
Yuliya grew up in Russia and wanted to become a painter. While studying Fine Arts at the University of Siberia, her interest in photography turned into a vocation. She would go out equipped with her camera, searching for stories, shooting what she saw — animals, street scenes, passers-by — being curious about other people's lives. "I've always wondered how other people live, what they do, how they dress and what they love."
At one point, Yuliya decided to be part of something a bit more intimate. She wanted to learn more about her subjects, so she put out an ad. She wanted to photograph a wedding, but almost all the photographers she met in the photography community online echoed a similar sentiment, that wedding photography was "a 'low' genre" and "absolutely not a woman's job." However, once she discovered that her new job was an endless source of creativity, she felt in love and didn't doubt herself.
For Yuliya, being a wedding photographer means playing multiple roles. "You need to be a portrait photographer to get the best out of your heroes, a fashion photographer to enhance the beauty of their costumes, a still life photographer who pays attention to details, a landscape photographer who documents where it all happens, and of course, an avid reporter who rushes into the scene and watches over the shoulder."
Every picture Yuliya takes is part of a bigger story that includes a setting, two main characters, a plot, and a logical conclusion. "It is very important to work with people who relate to your style and are open to communication." Yuliya tunes out the rest of gender-biased criticisms. Her work begins long before the wedding day with several client consultations — her longest one lasted seven hours — where her clients discuss all the details that can play a key role in the event later. "On a bride's special day not everything goes as planned, but that's great! In such situations, people show their real character, their real emotions. They don't follow normal patterns of behavior."
According to Yuliya's perspective on wedding photography, you must document the day and the relationship(s) in the most authentic and honest way possible. "A wedding is primarily a family celebration, a day for the bride, the groom, and their closest ones. The couple must have fun and not work as models. I avoid directly posing them." And when a little modeling is needed, she relaxes her clients to keep it casual. "If they like movement, we'll run and jump. If they prefer to relax for a while, we can sit under a tree."
Hiring a photographer for a wedding can be a nerve-wracking experience. Luckily, Yuliya has some tips for those still searching for just the right one.
"Don't choose the photographer, choose the person. The person with which you will be the most comfortable and whose advice you trust. Trust is the key to the relationship between photographer and client. Your trust allows the photographer to show not only his professionalism but also the soul in his or her work."
For clients, she urges brides and grooms to "determine your priorities, think about what you would like to see on your wedding day. Share your thoughts with your parents, friends, guests … but remember that the ultimate decision should be left up to you."
"Try to make your wedding day the most comfortable and relaxed experience you can. Organizing such an important life celebration is not simple, so there is no need to make things more complicated than they need to be. Brides don't need to choose extravagant locations for the photo shoot or plan lots of activities for guests who prefer to be calm and talk to each other."
As a wedding photographer, Yuliya has little control over the places where the work needs to be done, but that's what she likes the most about her job. "I travel for weddings to different points: from the Fjords of Denmark to the French Alps, to places I've never been to before. New places inspire me and give me a reason to take even more interesting and diverse shots."
Follow Yuliya's photostream for more wedding and family pictures and to learn more about her latest project. She is looking for families around the world who are willing to devote their lives to her for a few weeks! To know and understand her clients is a key element to capturing their love, with and #ThroughHerLens.