Time to get those last photos of monuments and historic places into the Flickr Worldwide Photowalks Group! We'll leave the pool open until the night of September 30th, PST. For photowalks happening that day, there is not much time to submit so be sure to edit, upload, and tag your images ASAP after the walk. If you did not attend a photowalk, no worries. You can still submit an image of a historic place or monument up until midnight.
Important:
To be eligible for participation in the international Wiki Loves Monuments 2017 photo contest, your photos must have a valid license type:
Attribution Creative Commons
Attribution-ShareAlike Creative Commons
Public Domain Dedication (CC0)
Licenses with NC (NonCommercial) or ND (NoDerivs) will NOT be accepted to the official Wiki Loves Monuments contest, but can exist in the group. The 'Public Domain' mark is incompatible due to copyright complexities.  Without the correct license, Wikimedia won't be able to bring your photos to the Wikimedia Commons contest or to their database.
In addition to adding one of the valid licenses, your photos need to be tagged with the following:
country
city name (where the monument is located in)
monument ID
add the tags "FlickrPhotowalk" and "WLM2017" to your images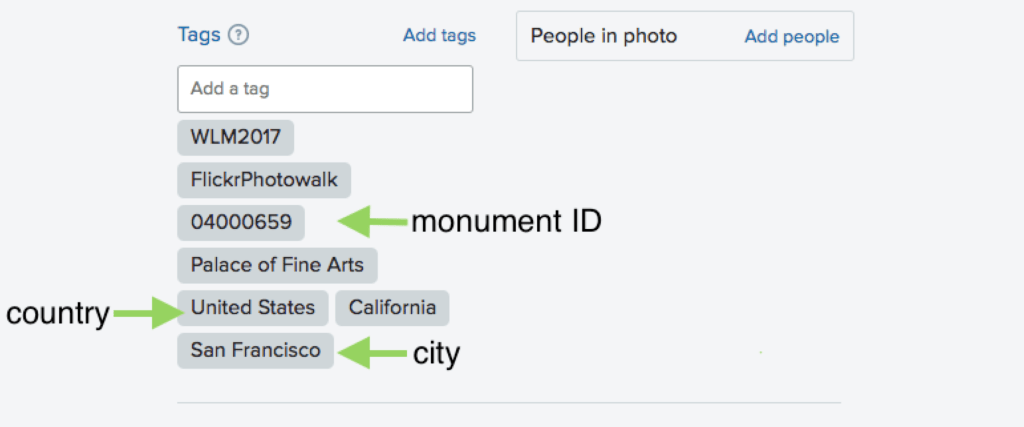 If you have questions about the contest rules, or you have trouble locating the monument ID, please review the information in the official group or ask the Flickr Team here.