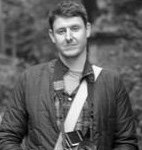 When you look at the buildings and spaces that surround your neighborhood, do you ever feel compelled to photograph and immortalize the scene, or do you see just another mundane landscape? For British photographer Tom Westbury, anything and everything has the potential to become a valid, interesting photograph.
Tom works in communications and public relations for the National Health Services of the United Kingdom, a job that involves event and portrait photography. "I was given a digital SLR when I started my job about seven or eight years ago. I decided to learn how to use the camera and quickly became obsessed," he explained.
His interest in landscape photography, and more specifically in "New Topographics," an art movement characterized by its interest in seemingly banal, everyday scenes grew after picking up a copy of Uncommon Places by Stephen Shore and the William Eggleston's Guide. "I was amazed at how ordinary scenes and subjects could take on extraordinary qualities when captured and framed photographically."
As pioneers of color photography in the early 1970s, and in turn influenced by the Photorealist movement, Shore and Eggleston wanted to capture the ordinary life of immediate surroundings. This approach towards photography completely changed how Tom thought about the world. "I realized I didn't have to shoot beautiful subjects anymore."
"Generally, I'm interested in the environments we inhabit, what they reveal about us and the way we live today. The banal and the every day are often overlooked but can tell us just as much as any other scene."
Tom has an entire series dedicated to Brutalist architecture, a style he finds particularly expressive and moving. "It represents a more optimistic, but some would say flawed, post-war period in the UK where people were trying to build a better society; so capturing how these buildings have aged over the years can maybe say something about what became of this dream and whether these ideals are being maintained or abandoned in our world today."
Aside from the Brutalist sites, Tom advocates for photographing the things and places that are part of our daily life. "It forces you to see the familiar in a new light and opens up a lot of photographic possibilities within easy reach." He's particularly drawn to the edge-places between the urban and the rural, but also to decaying or abandoned spaces, or conversely, to brand new estates. "It's really about the forms and the light. How the shapes can be arranged in a frame. Interesting angles and textures. Color combinations – these are the aesthetic elements. Then there's the social, documentary perspective and ironic details that add another layer."
Most of Tom's photos are shot on film. "I used to spend hours trying to make my digital images look more like film. So one day I decided to just buy a film camera, a Nikon FE2, and I haven't looked back." He enjoys the process of shooting, developing and scanning film because it forces him to think more before pressing the shutter – only ten shots per roll of film. Using the same type of film every time (Kodak Portra) helps him achieve a consistent look. "These limitations actually help me because I don't have to make lots of choices about gear and can focus on making the images themselves."
The absence of people in his photographs adds to that consistency. "My photographs are all about people, but I choose not to include them in most images. This is because I want the viewer to focus on the traces that humans leave on the landscape, and what urban places tell us about our society and way of life."
"When I'm not making photographs I'm probably looking at, reading, or thinking about them." Tom lives and breaths photography, and that passion has helped him make a lot of good friends on Flickr—talented photographers like Paul Turner, Andy Feltham, Tom Sebastiano, Matt Peers, or Wojtek Mszyca, and many others. His plans for the future include editing his work into series and having some of his work published as a photo book.
Explore more of Tom's work on his Flickr Photostream.