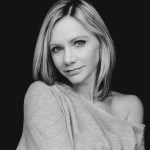 When children enter school, parents often feel relieved, but also heartbroken and lonely. As a mother of three kids, ages eleven, nine, and five, Erica Montgomery knows the struggle very well. Originally from Cape Cod, Massachusetts, but living in Los Angeles for many years now (since the day she realized she couldn't take another East Coast winter), this 43-year-old woman has built her life around her two passions: family and photography.
Now that her youngest just started school, Erica has more time to shoot client sessions with other families. She welcomes and embraces this time as a transitional "incubation period," and hopes for new opportunities and new beginnings. "Photography has always been the way in which I give my life new meaning — so I will continue shooting through this change. I'm not sure what's waiting to emerge, but I'm excited to find out."
From an early age, Erica had an intrinsic motivation to document her life. Taking photos was her way to understand, process and experience the world, and scrapbooking the best method to keep all her memories organized, so that's what she did for years. It wasn't until after the birth of her second son, Kingston, that she got more serious about the way her photos looked. "In 2010, I enrolled in a beginner photography course at the Los Angeles Center of Photography. I was blown away by the difference in my pictures in just four weeks—I was hooked. I stopped scrapbooking and put all of my energy into the art of photography."
Like most people, Erica got interested in photography because of family, particularly after having her children. "My children are my greatest inspiration, and of course, my favorite subjects. When I first learned how to shoot in manual mode, my boys were only four and two, and my daughter wasn't even a thought in my mind. I began practicing with my boys while they played. I never thought those early photos would mean much to me since most of them weren't technically good. However, seven years later, I cherish them. I look back in awe realizing how fast time is flying, and how much our family has changed."
Taking photos of children can be a challenge, as every parent knows, but also a very rewarding experience. Kids are less self-conscious and more expressive than adults, and that makes them great photographic subjects. "I never know what expressions I am going to get from my children. I'm controlling the light, but I'm not controlling what they bring to the session. We usually just start talking and whatever they're feeling that day is what I am thrilled to capture."
As a mom photographer, Erica is an expert at bringing out her kids' unique personalities. "My oldest son, JT, is now 11 years old, and he is an amazing baseball player. He still completely ignores my camera, but sadly, I know my days of documenting him will soon be over as he inches closer to the teenage years."
She is also very proud of Kingston's budding interest in photography. "I love when his memory card fills up, and I am able to upload all of his pictures and videos onto my external hard drive." She says her middle son can't go anywhere without his GoPro camera. "He recently filmed himself and his friends playing hide and seek around our neighborhood. The way he shot it reminded me of The Blair Witch Project. I loved it so much that, one night while he was sleeping, I edited it, and made it into a 4-minute documentary film."
To be able to document all these precious moments with her family, Erica carries her 35mm 1.4 lens around everywhere. "My desk is purposely set up in our main living area so that I am able to work on photos and be with my family. I keep my camera on the desk; charged, formatted, and ready to shoot."
She says she worked hard to learn her camera and to deal with different lighting situations until both things became second nature. That was the hard part. "From the beginning, I wanted to shoot from the heart, and not think about the gear. I wanted the confidence to know that I could shoot in any lighting situation. It took years of practice, and I am still practicing, but it's worth every second — I will always consider myself a student of light."
"When I decide to bring my camera to my eye, it is either because the light inspired me, or the moment moved me."
During all these years as a family photographer, Erica has learned quite a few lessons. "When I first started out, I would feel defeated when I was in a rut. I would feel like it was a setback. Now I have learned to shoot through them, and to make a whole bunch of uninspired images, knowing full well that I will grow as a photographer." If she could go back and give herself one piece of advice, it would be to chill out. "I look at creativity as a muscle, and like any other muscle, it must expand and contract to grow. "
Erica hopes to encourage everybody who follows her work to go out and get motivated to document their personal lives. "No matter how hard life can be, there is always so much grace hidden in the depths."
Inspired by her images? Check out Erica Montgomery's Flickr Photostream and website for more family photography.