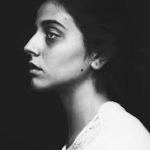 Silvia Grav is a Spanish photographer/director​ ​based in Los Angeles. Her career started at the age of 18 when her work was published worldwide in media such as Juxtapoz, Communication Arts, Vice and The Huffington Post. Her work sparked attention to creatives in many different industries, and she jumped from art direction for main title design for True Detective and American Horror Story to photographing Robbie Robertson to directing music videos and documentaries.
We recently had the pleasure of meeting up with Silvia Grav in Los Angeles for a special filming of a new Flickr Feature about her work. We asked Silvia to select her three favorite photos from that photo session and here are her thoughts in her own words:
From Silvia:
"The three images are part of the same shooting. It was an exercise of experimentation. The choreographer, Genna Moroni, and I had been wanting to collaborate out of the pressure of clients for a while, but life is always too fast and we never got the chance to do it. This was the perfect excuse, so I texted her with almost no time and she showed up with the incredible Lydia along, as a surprise. And [model] Lydia brought her insanely cool clothes with her, and that was that. The rest is just them following their instincts and me following mine in post-production."
And, if we can ask, "What words of wisdom would you share with any new or budding photographer?"
From Silvia:
"I would tell them to never forget that feeling – that rare certainty that appears only when you are doing something that feels right to you. That feeling is the only thing you will have to combat self-doubt with, to hang on to when there is just fear and no enough reasons to keep doing what you do."
Thank you for sharing! Watch Silvia's creativity in action in this Flickr Feature video.
---
Follow Silvia on:
– Flickr: https://www.flickr.com/photos/silviabmx/
– Website: https://www.silviagrav.com/
– Facebook: https://www.facebook.com/gravphoto/
– Instagram: https://www.instagram.com/silviagrav/ 
– Twitter: https://twitter.com/Silviagrav
– Behance: https://www.behance.net/Silviagrav