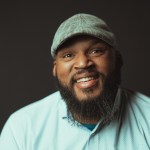 Al Thomas, known as educopilot on Flickr, is an educator and photographer who works with schools in America to transform teaching by using the power of creativity and technology. Al joined Flickr in September this year when he was awarded 1-year of Flickr Pro as a participant in Peak Design's gear grants for Black photographers initiative. In addition to his portrait photography, Al has been sharing his work documenting the recent demonstrations around racial injustice in the US. "It is the story of my fight for my humanity."
In this Q&A, Al talks about his passion for street and portrait photography and shares some examples of his most recent work.
Can you introduce yourself?
My name is Al Thomas, and I'm originally from Louisiana, but currently live in Austin, TX. I'm a visual storyteller and educator with a passion for inspiring others to be creative. I have more than nineteen years in education, and my current work is to train educators and students on the importance of creativity and inspire them by sharing inspirational stories through photography and film.
How did you get interested in and started with photography?
I have always enjoyed playing around with taking pictures with any camera I had access to, but it wasn't until I bought my first camera, the Canon T2i, that I started to fall in love with the process of capturing life moments. That camera went everywhere with me and I would look for any reason to photograph family, friends, and random strangers with the hope of getting a little better and to try out a new technique I discovered. I made so many mistakes, but I'm better for each one.
How would you define your style as a portrait photographer, and how did you find it?
I don't know if I have an unmistakable style as a portrait photographer, but what I do know is I always want to capture authentic moments that tell a story. Those are the images that make me feel alive, and I hope that comes across when others see my work. I guess that is my style, and I found it by trial and error.
Being photographed isn't exactly a natural experience for most people. How do you work with your models or clients to get them to feel more comfortable?
I have learned that it is about communication. Taking the time to give clear direction and understanding of your vision helps provide room throughout the shoot for you and the model to experiment and take the photos to another level. Also, patience in photography should be a required skill. Being able to slow yourself the process down is a must.
Most of your Flickr photographs are shot in natural light. What is your process for finding good locations and preparing for a photoshoot?
I like to explore the cities I live in or visit to find great spots that could enhance the overall look and feel of a photoshoot. Using my smartphone, I build a list of places to visit at different times of the day to get a feel of the location and how the light interacts with the area.
Besides portrait photography, what other types of photography do you like to do? Your Flickr account has some street photography shots of the recent Black Lives Matter demonstrations. Can you tell us more about your work documenting the protests?
Portrait photography provides a great way to connect with a subject and pull out emotions with each image captured. This is very different from my other favorite type of photography, which is street photography. Street photography, to me, is a raw and unapologetic look into everyday life. I often find that street photography allows me to slow down and see the world and all it is trying to share. Whether it is a mother walking with a child, an artist painting on the street, or a young woman standing up for equality during the recent BLM demonstrations street photography truly is poetry in motion.
Capturing the BLM demonstrations has been a challenging and beautiful experience that I'm glad to be a part of. In the beginning, I was hesitant to capture the protest, but with so much misinformation, I felt a responsibility to share what I was seeing. The pain, struggle, hope, and unity. It was inspiring to see people of different shades and backgrounds standing against hate.
Pick one of your recent portraits and tell us about it. What did you do to capture and edit it, and what did you want to achieve?
I took a picture of a young lady during the protest, and it is one of my favorites that stays with me to this day. When I look at this photo, I see so much strength and willingness to put herself out there to bring about change. Her demeanor and fearlessness is on full display for the world to see and it reminds me of the power and resolve of the black women in my life.
Can you share one of your "worst" shots and explain why you weren't satisfied with it and what did you do to course-correct?
The photo I took of a friend wearing a red outfit was a challenging photo when I tried to capture it originally. I remember liking how the light was falling on her face, and it gave this relaxed Dick Tracy vibe, but I could not get shot in my head to come out in the photo. The light and positioning were off, and it wasn't until I started to convey the emotions and set the scene for the model that it all clicked and with some edits to bring out her eyes and play up the shadow and lights that I feel I captured what I was envisioning.
Do you have any upcoming exhibitions, workshops, or projects?
I am currently building a course on visual storytelling, so sign up on my website so you can know as soon as it launches. Also, I serve on the Board of Creatives for 100cameras and encourage everyone to check out the work the organization is doing to empower students to impact their community through photography.