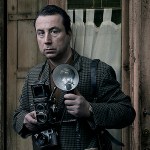 This 16 Questions About One Photo interview focuses on the cinematic photography of Blaise Arnold. Blaise has over 35 years of experience as a photographer in both the advertising and magazine industries.
In this 16 Questions About One Photo interview, we spoke to Flickr member Blaise Arnold. Read on to learn more about Blaise and the cinematic influences that people see in his work. If you would like to take part in this interview series, let us know!
1. Please introduce yourself. Who are you? What do you do? How long have you been into photography?
My name is Blaise Arnold and I am a photographer. I have worked for 35 years in advertising as well as for magazines. On Flickr I broadcast my personal work. I live in Paris.
2. In one sentence, please describe what you captured in this shot.
It is a portrait of a woman, who obviously has a problem.
3. Why did you select this photo to talk to us about?
I chose this photo because it represents everything I love. Aesthetics, mystery, emotion.
4. What style of photography would you describe this as and do you typically take photographs in this style?
It's very cinematic style, I try to tell a story in one picture. I do this often.
5. When and where was this photo taken?
It's quite complicated. The motel was photographed in August 2015 in California (Lake Los Angeles), the prominent wall elsewhere in California, the green car in France, and the model and the phone in France in my studio in 2017.
6. Was anyone with you when you took this photo?
No, I was alone. It was very early because I didn't want the sun.
7. What equipment (hardware and software) did you use?
I used a Nikon D800 with a 35mm for the background and a Hasselblad H3D39 for the character. And then Photoshop for the final assembly.
8. What drew you to take this photo?
I discovered [this] place through a beautiful photograph taken by Noel Kerns. …I found it very evocative.
9. How many attempts did it take to get this shot? How long did it take you to get one that you were satisfied with?
I had to take a hundred photos of the scenery because I didn't know exactly how I was going to organize the final compositing. In this case, the more photographs I have, the simpler it is afterwards. For the model, I had to take fifty photos to get the emotion I wanted.
10. Did you edit (or do any post-processing/production on) this photo?
I spread [the editing and retouching] out over time in order to have a clear vision each time I see the image again and to correct the flaws. The setting of colors, shadows, contrasts.
11. What encouraged you to share this photo on Flickr? Did you share it anywhere else (in a contest, a group, etc)?
I share my photos on Flickr because the audience is global and it's easy to do.
12. Did you learn anything in the process of taking, editing, or sharing this photo?
No, nothing special.
13. Do you remember what you had for breakfast (or lunch or dinner) the day you took this photo?
If we talk about the photo of the motel, I did not have breakfast. I left Los Angeles at 3:30 in the morning and arrived around 6 a.m. and as soon as the day broke I started taking photos on my tripod. But I remember that when I returned to find my family I stopped at a secondhand market; I can't resist!
14. What would you like people to take away from this photo?
The emotion of this young woman. And [to] wonder why she got out of her car so quickly that she didn't take the time to close the door. And what does she learn to be in this emotional state…
15. Is there any feedback that you'd like to get on this shot?
"Looks like an image from an Alfred Hitchcock movie…"
People often see references to cinema or classic photography [in my work]. What do you see?
16. How can people reading this support your work?
People can follow my work on Flickr and other social networks. I also sell prints.