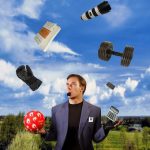 Mark Edwards is a photographic artist and has been a member of the Flickr community since 2007. In this 16 Questions about One Photo interview, Mark discusses how his photography captures the grip that COVID has on our cities and on our lives. Mark's thorough responses also provide a glimpse into his creative process, which is sure to inspire your own photography. Have a look at his photo, "In the Grip of COVID" and leave him a comment or FlickrMail if you have any questions or feedback about his work.
In this 16 Questions about One Photo interview, we spoke to Flickr member Mark Edwards about his photo "In The Grip Of COVID." Read on to learn about Mark's creative process and if you would like to take part in this interview series, let us know!
1. Please introduce yourself. Who are you? What do you do? How long have you been into photography?
Hello fellow Flickerites, my name is Mark Edwards. I like to think of myself as a 'photographic artist.' To some, it may sound a bit pretentious. However, I think it captures for me more accurately my relationship with photography. I am not so concerned about capturing what I see but more on what I feel. My camera and software are the tools that give me the freedom to do that. Weekdays, I earn my living as director of a software mergers and acquisitions company called Boss Equity which I established in 1999. I am also director of a strategic positioning consultancy business called OutSmart which launched last year. I use my photography in both companies but particularly in OutSmart because of the power of images over words to communicate faster.
[I have been into photography] since I was 11 years old when my father gave me his Corfield Periflex camera. He then was told that it might be quite valuable (it wasn't) so he replaced the Periflex with a Zenit E. It is not a fair swap, you may think if you know both cameras, but both cameras were very manual and forced me to understand the principles of exposure, depth of field and focusing. That proved to be an excellent grounding for me.
2. In one sentence, please describe what you captured in this shot.
This shot, which I have called 'In The Grip Of COVID' was taken on Church Street, in the UK, which I intended to be part street scene, part environmental portrait.
3. Why did you select this photo to share?
This image is the first of 20 images that I am creating for my Fellowship (FRPS) Royal Photographic Society. I wanted my FRPS to be a challenge, very different in style and technique to my Associateship (ARPS) panel of images, which was more documentary reportage. Creating the image incorporated quite a few techniques and genres that I thought may be of interest to a wide range of photographers. Landscapers, portrait artists, street photographers and those interested in panoramas and using HDR techniques. This image I felt was expressive and communicated about my emotions and thoughts in regards to the change that has happened in the world due to COVID.
4. What style of photography would you describe this as and do you typically take photographs in this style?
This photograph is partly a street photograph and part environmental portrait, but it has also been created in a semi cinematic style regarding the aspect ratio and colouring within the image. I have chosen a panorama technique to capture the full width of the road. The scene I was capturing had a very high dynamic range, so used an image blending technique using five bracketed shots per angled view.
5. When and where was this photo taken?
The photograph was taken on Church Street in the town of Sawbridgeworth, Herts in the UK during January of 2021.
6. Was anyone with you when you took this photo?
Now you would think that would be an easy question to answer, but in this instance, not as easy as many may think. This image was captured over three different nights all at the same location on precisely the same spot. On the first night, I took a photograph of just the street's left-hand side plus a little of the right side. The next day as I processed this image, I started to see an idea for a finished photograph, and I went back and captured the right-hand side of the street. This second time it was quite foggy. I liked this atmospheric effect and incorporated the mist into the final image. On my third visit, James came with me, the person in the foreground closest to the camera. James was photographed in the street at the same location. Then I had the job of bringing the images together.
7. What equipment (hardware and software) did you use?
I shot the image using a Canon 5DSr DSLR with a Canon 24mm Prime F1.4. The image was captured in a series of panoramic shots on a tripod with a leveling base to make the set-up easier. I also used a cable release to avoid any movement or camera shake.
8. What drew you to take this photo?
When looking at some of my recent images, I can see elements of this image as my vision for this panel has evolved. This was an image that I had been thinking about and wanting to capture for some time. This particular image is my first interpretation of the feelings I and probably many others have experienced when shopping or walking around in their local neighbourhood during COVID lockdown periods.
While taking this image, many local people seeing me with my camera and tripod were interested in knowing what I was doing. So I posted the final photo on the local Facebook group. It created a lot of interest, and many said that it captured that eerie and somewhat scary feeling they had when out seeing others with their faces covered with their masks.
9. How many attempts did it take to get this shot? How long did it take you to get one that you were satisfied with?
The image was taken over three separate nights but was a composite due to it being a panorama and HDR of over 30 individual shots. Overall including the shooting and processing, I worked on this image on six different days.
10. Did you edit this photo?
The processing took me about three days. Not solid work but on and off over a long weekend. I tend to do some work on the image and then walk away and leave it for my eyes to adjust. Quite often I will come back to the image after a break and see that what I have done does not look right or as I had really intended. I used Photoshop to stitch and merge the HDR panorama. Within Photoshop I created just over 60 layers for the work I did on the various lights sources to create that cinematic and misty look.
11. What encouraged you to share this photo on Flickr? Did you share it anywhere else?
I have been a Flickr Pro member since 2007 and have nearly 2,000 images on the platform. I have never thought of Flickr as a back-up but as a place where I post the photos that I believe are worthy of publishing. I also shared this image on the local town Facebook group and Nextdoor, a platform for neighbours. All three platforms created quite a lot of interest. I also shared this photo in several Flickr groups, including COVID-19 Face Masks, Coronavirus Time, and CV Epoque.
12. Did you learn anything in the process of taking, editing, or sharing this photo?
That is a great question. The answer is most definitely yes, I learnt a lot. I found that this was quite a technical image, which made me really think through my capturing and processing process. I like to get as much done of the technical thinking up-front. That means if I spend time working through the technical aspects and sometimes even practicing in advance then when capturing the image, I have more of my brain on the artistic factors. For instance; to minimize the distortion, I needed to calculate the 'No Parallax Point' or 'Entrance Pupil' point. This is the point upon which I pivoted my camera and lens to capture the panorama. When you capture landscape panoramas, there are no straight edges or lines. Also, typically with landscape panorama the main subject is usually quite some distance from you. However, there were lots of straight edges and lines and the stitching software needed to bring them all together. There was also my main subject (James) who was just a few feet away. The final image was a series of five bracketed shots for each of the six angles. So 30 images for the complete scene. I soon found out how useful a leveling base is when taking multiple panorama scenes. Especially when moving around. Fortunately, because it was late in the day and due to COVID lockdown, few cars were on the roads. For this particular shot my tripod was positioned in the road, which I would not advise but fortunately, Church Road in Sawbridgeworth is very quiet for traffic.
13. In one of your previous answers, you described yourself as a photographic artist. How do you define 'photographic artist'?
This is a debate I have had a few times with other photographers. I think primarily I have the desire to be a 'communicator' and photography enables me to do that. Although I do use my camera to record reality that is not my main interest. Like a paintbrush for an artist who paints pictures, I want to use my camera and software to communicate ideas, feelings and emotions.
14. What would you like people to take away from this photo?
I hope that people can identify with some aspects of this image from their local community and the effect that COVID has had on communities across the world. I have felt on some occasions a sort of surreal world has been in place. A kind of twilight world where we can only go out for essential food and travel. Instead, we have been living our lives through the television, films, and TV. One of the links I am trying to make in this series of images is the strange loss many of us experience and the mixing of realities.
15. Is there any feedback that you'd like to get on this shot?
Yes, very much so. I think the quotation by Georgia O'Keefe is very appropriate; "I had to create an equivalent for what I felt about what I was looking at – not copy it."
This was not so much an attempt to accurately record a street scene but convey a feeling. I would very much appreciate it if people viewed this image on Flickr, and then left a comment. Leave a comment and NOT just fave the photo, but tell me how it makes them feel. Have they experienced similar feelings? It has been a difficult time for millions of people throughout the world, and leaving a comment about how COVID makes them feel and just talking about it could be a big help.
16. How can anyone reading this support your work?
I think the best way is to get in touch on Flickr. Leave a comment or even send me a FlickrMail. I will respond to all who reach out to me.