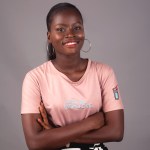 Taiwo Aina
is a visual storyteller and filmmaker who specializes in documentary stories and creative portraiture. She is based in Abuja, Nigeria. She currently creates works around daily experiences in human life and the societal issues that affect them, women, agriculture, and entrepreneurship. Taiwo is interested in capturing beautiful moments. She loves to travel and discover new cultures while interacting with people and broadening her knowledge.
I had the opportunity to speak with Taiwo Aina on the day before International Women's Day in March of 2022. This was also the eve of her first solo exhibition, Game of Confidence, where her photography shares the stories of women boxers in Nigeria. Taiwo and I spoke about how she captured this photo and why it's one-of-a-kind.
1. Please introduce yourself. Who are you? What do you do? How long have you been into photography?
My name is Taiwo Aina. I am a visual storyteller and filmmaker who specializes in documentary stories and creative portraiture based in Abuja, Nigeria, though I do travel a lot. I was introduced to photography in high school.
2. In one sentence, please describe what you captured in this shot.
This photograph is a candid moment of a group of women during the Osun Osogbo festival. Osun Osogbo festival is celebrated worldwide and in Osogbo, Nigeria.
3. Why did you select this photo, Women and Culture, to share and discuss?
I love this picture and I feel so connected to this photo. It's iconic and I feel like when people see this photo, they will remember me and my photography. I also love everything that this photo symbolizes and captures: women, culture, and the Osun Osogbo festival.
4. What style of photography would you describe this as and do you typically take photographs in this style?
This is a documentary-style photo. You get better through practice and I've been training myself in this style by taking more documentary-style photos. I love how candid the picture is.
5. How did you get the needed perspective to take this photograph?
I saw these women coming from afar and wanted to position myself to photograph them. There was a bridge connecting two houses together and I begged to get access to it to capture this shot. I was the only photographer from this vantage point, so we can say that I'm the only person that captured this perspective.
6. When and where was this photo taken?
August 26, 2021 at the Osun Osogbo festival in Osogbo, Nigeria.
7. Was anyone with you when you took this photo?
I was the only person there and I was the only woman photographer working that day. That's another reason why this photo is important to me – it's symbolic of my work.
8. What equipment (hardware and software) did you use?
I used a Canon 5D Mark II. It was too busy to carry any other equipment.
9. How many attempts did it take to get this shot? How long did it take you to get one that you were satisfied with?
I took about 8-10 photos of this scene. After clicking, clicking, and clicking, I knew that I would get a good photo from this series because the angle was on point.
10. Did you edit (or do any post-processing/production on) this photo?
I edited using Adobe Lightroom on my phone.
11. Did you share this photo anywhere?
I shared it on Instagram and this photo got me my first commission and the residency program that I'm in. I also sold an NFT of this photo.
12. Did you learn anything in the process of taking, editing, or sharing this photo?
Be prepared and always be curious and ready for the moment. Always look for more shots that are unique. In this situation, [to get the unique shot] I went up. I took every opportunity to get above them and get this photo.
13. Do you remember what you had for breakfast (or lunch or dinner) the day you took this photo?
We didn't eat. It was the first day of the festival so we were all really anxious. We also left really early. We went to a friend's house afterwards.
14. What would you like people to take away from this photo?
To see the beauty of women and to see the beauty of culture. I want this photo to register in their memory.
15. How can anyone reading this support your work?
You can commission me for assignments, purchase prints of my work by contacting me directly, or recommend me for exhibitions. I also have another NFT available for sale. (Editor's note: Visit Taiwo's website to contact her for prints.)
16. What is inspiring you as a photographer right now?
I want to be financially free and I want to be able to inspire other photographers coming behind me, so that they know they can make money from being a storyteller and being a documentary photographer. I also want to go back to the festival this year and my goal is to capture another iconic photo from it.
Editor's Note
This interview with Taiwo Aina is part of a series with members of the Black Women Photographers community. Meet more of these photographers and learn about their work here.