1. Please introduce yourself. Who are you? What do you do? How long have you been into photography? 
Hello! My name is Jordan Kines and I am a 27 year old Boston Based photographer. I rotate between
travel, lifestyle, and landscape/nightscape photography. My mother blessed me with a kodak point and
shoot camera when I was in 7th grade (2008). I would love to say it's been 15 years of me behind the
camera, but it has really been about 10 years officially that I've been into photography.
2. In one sentence, please describe what you captured in this shot.
The calmness of the local busy BJs Gas station in my neighborhood is being blanketed by the first
snowfall of the winter.
3. Why did you select this photo to share?
I selected this photo because one seldom sees this gas station empty and calm (unless it is closed).
BJs Gas has the best local prices for gas currently, so the traffic and wait is normally high and long.
Two, it represents my curiosity and spontaneous approach as a photographer. I had no intention of
going out to shoot, but I saw how dense the snowfall was and decided this is an opportunity to capture
something. The arrows that direct traffic are leading to the sheet of snow and the gas station making for
a satisfying frame. This is one of my favorite shots as of late! It's a mundane location, but with the
sheet of snow and the snowfall it turns it into something unordinary.
4. What style of photography would you describe this as and do you typically take photographs in this style? 
This image definitely falls into nightscape/street photography. I rotate between styles because my
interests are so broad and my eye sees a freeze frame at most moments.
5. When and where was this photo taken? 
This photo was taken last winter, February 2022. I am Boston based, but this was captured about 30
minutes south of Boston in Quincy, MA. My hometown!
6. Was anyone with you when you took this photo?
I was alone when this moment was captured!
7. What equipment (hardware and software) did you use?
I rolled with a Canon 5D Mark IV & a 16-35mm f/4. I also had a weather guard on the camera (safety
first!).
8. What drew you to take this photo? 
What drew me to capture this photo was the fact that it was a dull and dark location that was turned into
something beautiful because of the snowfall. Snow definitely doesn't make things uglier, more than
often it adds an element of smoothness and brightness. It was a nightmare walking and driving around
in it though!
9. How many attempts did it take to get this shot? How long did it take you to get one that you were satisfied with? 
Now that I think about it, it took about 7 or 8 attempts to get this shot off. Only because I realized after
the first few shots that I was overlooking the arrows on the pavement. They weren't in the shot at first.
Getting them in the frame completes the shot for me.
10. Did you edit (or do any post-processing/production on) this photo?
I edited in both Lightroom and Photoshop!
11. What encouraged you to share this photo online and with others? 
I have a knack for capturing and sharing frames of things that are out of the ordinary. The motif that I
have lived on has been to create images where there aren't any to be created. This picture is an
example of that mainly because it is a gas station and almost all people are numb to the sightings of
gas stations. We tend to overlook so many mundane things that we don't often take a moment to step
back and acknowledge that those things have allure, too.
12. Did you learn anything in the process of taking, editing, or sharing this photo?
With creating this photo as well as its set, I learned that it's important and so good to listen to your guts
and intuition. It was cold, late, and all I wanted to do was stay warm and cozy. But my gut was telling
me to get up and go capture something!
13. Do you remember what you had for breakfast (or lunch or dinner) the day you took this
photo?
Yes! For dinner that night I actually had leftover chicken alfredo lasagna. Perfect comfort meal for
editing on a snowy night.
14. What would you like people to take away from this photo?
There's more to take away from the process and approach to this photo, than the actual photo itself.
Listening to your instincts and slowing down to acknowledge things we omit is necessary for creating
something out of our comfort zone.
15. Is there any feedback that you'd like to get on this shot?
I am open to any and all feedback that could make this photo stronger and make me a stronger
photographer!
16. How can anyone reading this support your work?
Taking a moment to visit me over at jordankines.com, my Flickr, or Instagram to say hi is more than
enough! I am forever open to new friends and having discussions around creating better images.
About Jordan Kines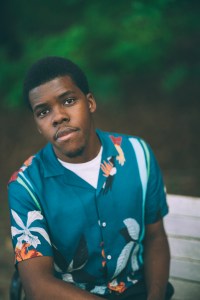 Jordan Kines (He/Him) is a Boston based lifestyle, travel, and city/landscape photographer who aims to freeze as many moments as he can while pushing his own limits.