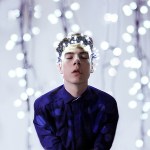 Through his captivating Finding Yellow project that is open for everyone, Stephen Maycock from Warrington in North West England caught our eye. In the space of two years, he went from "completely never ever using Photoshop" to teaching his own workshops on advanced editing at his college! His photostream features a beautiful approach to fine art photography with a mix of subtle and vivid colors that tell wonderful stories.
We're very excited to share our conversation with all of you today. We hope you'll enjoy Stephen's work and find it inspirational for your next photographic adventures.
error
What did get you started on photography and how did it become your passion?
For me I have always enjoyed art but never really found the opportunity to take photographs in an artistic way until I got to college where they were offering photography as a course. From there it quickly escalated outside of the classroom where I was taking pictures for personal ideas as well as ones to do with my college work. After finding Flickr my photography became my life.
For how long have you been into photography?
Only about 3 years, which doesn't seem much but I feel like I've learnt a lot and grown a lot too. Photography has been a very expensive hobby but is becoming a very enjoyable job! I have traveled to places I would never have dreamed of thanks to photography and Flickr.
error
What is your gear?
I use a Canon 5D Mark II with a 50mm 1.4 for pretty much everything I shoot. I always leave my F-stop at 1.4 unless it's SUPER bright, but this helps me get a really sharp focus on my subject. For other things I really like the technique of free-lensing, which is a pretty similar effect to having a Lensbaby or a tilt-shift lens, but a lot cheaper (and riskier!)
Fun fact is I paid for the majority of my equipment by working long hours at McDonald's.
In terms of processing I never have a particular method or pattern to follow, I think the best advice I can offer is try to edit things individually. All of my colours are edited separately on different selective colour layers and then I use a curve layer over the top to add tone. I've never really tried presets but I've heard they're great for getting consistency!
Are you using any equipment that you would call out of the norm?
I think EVERY photographer is always on the look out for repurposed props and strange items that they could use in their photos. I can't stop myself from thinking of images when I walk past a mattress left on the side of the road and how I'd be able to take it home or where I would keep it. My friends and family always text me with random items they've found or see for cheap, but charity shops and markets are great places to buy prop items.
I remember shooting for my Ceremonial's project a few years ago in an abandoned house in the middle of nowhere. I was with a friend and midway through the shoot we started to smell burning. Thankfully the house wasn't on fire it was just a farmer in the field next to us burning hay. I quickly jumped the fence and begged him to let me use the burning mountain of grass in the background for one of my pictures. I think he was a little confused but the picture came out great!
Sometimes things like that will happen on a shoot, where I'm inspired by what's going on around me or what's lying on the floor, and I'll use that to fuel the concept. You have to work with your environment, and how often are you going to be able to shoot with a fire and a vintage wedding dress?
What is the best thing about Flickr? When did you first hear about the site and what made you make it the home for your photos?
I think the first person I ever followed on Flickr was Molly Strohl, her work is fantastic and has long been an inspiration to me. After a bit of (shameless?) stalking, I found a whole host of talented people that she was connected to. I guess it's just a really friendly place and there's quite a sense of community and hierarchy, which encourages you to create better work.
Obviously now that I've found a place on Flickr, the best thing about it is how connected to the rest of the world it has made me! I'm spending the summer traveling all over America thanks to a single status! I'd booked a trip to New York to see some Flickr friends that I met last year and realised that I'd saved a lot more money than was needed for just that stay, so I half jokingly created a status on my Facebook page asking if anyone would let me stay with them if I extended the trip. About an hour later I'd already had loads of messages and comments and I just decided to go for it and try and see everyone that was kind enough to offer up their homes.
The photo community as a whole is incredibly generous. I think just a couple of weeks ago one of my photo friends David Talley got all of his gear stolen, literally everything, and within a couple of days there was a group set up offering donations to help him re-buy. It's really lovely to think about.
Which other members and which groups influence you most?
I've recently set up a creative collaboration for whoever wants to get involved called Finding Yellow. It will run from now until June and is all about searching for positivity and translating that in anyway you can! The group is only young, but it has some incredible entries and has helped me find some beautiful inspiration. I'd really love to encourage anyone who's reading this to check out the group and have a look at the work people have put their time and effort into.
While I've invited some really great artists that started out on Flickr to contribute, it's really open to everyone, and as many entries in there as possible would be amazing to see. I'll be contributing my own concepts as much as I can. I think I have just the two in there at the minute but I have so many photos planned, it's going be be a great little summer project!
error
How was America?
America was one of those experiences that seems completely unreal. On paper it was all a risk, but in reality it was so clear that I had to go. To fly, alone, through two connecting flights to meet a bunch of strangers from Flickr.
These people I now call my friends, if not my FAMILY and they just mean everything to me. They all filled me with happiness and inspiration and cleared my head of any worries or stresses for the two weeks I was over there. We, a group of around 20+ US Americans and 2 Canadians, camped under the stars, danced on the beach, hiked up to waterfalls, shot in abandoned houses, woke up way too early in the morning to see the sun and went to sleep way too late at night to sit by the fire. We had powder paint wars in warm rivers, and saw the city in the mid-day sun. It was exhausting and exhilarating at the same time and I wished that trip would never end.
What is your favorite photo from your own photostream?
My favourite ever photo of my own would probably be Forever Autumn (above) which was a brilliant collaboration with Jen Brook. She's an incredibly talented model and writer and asked me to shoot for her Dreamcatcher Project. I feel like I marked this as the first time that my work had been appreciated or caught the attention from someone within the industry.
It's such a big step up to have someone sought after your work and your own style. A hell of a lot of planning went into the shoot and I worked with a full team including assistants and a make-up artist. It was like my own normal work that I'd been posting to Flickr every day but on a much bigger scale and it absolutely confirmed that I want to do this forever.
On a little side note, more than a few people compared the results of the shoot to the work of Tim Walker, and that can ONLY be a good thing!
And what's your favorite photo from a fellow Flickr member?
It's very hard to decide because I really like a lot of artists work on here, but one of my all time favourites is Rob Woodcox's The Lost Travelers (above). I think it was for a workshop or something but it's such a beautiful set up. I really love shoots that have a lot going on in their set up, it's an aspiration for me to be able to work with a team and with other creatives, but I think that will all come after university!
Another photographer that I'd recommend would be Collin McAdoo. I think he's creating some really interesting and unique work that's got that beautiful dark and sinister tone!
error
If you had one tip for someone who just picks up photography, what would you tell them?
I think one of the best things that I realised, particularly when I was a younger artist on Flickr, is not to compare yourself to the current portfolio of your idols. I was a complete amateur and felt like I wasn't good enough because I couldn't get those colours or nail that technique.
It took me a long time to realise that my photography inspirations had been doing their thing for years, and when I looked at their earlier work it was the same raw quality that I had. Flickr is a place to soak up talent and ideas and styles and then build off of that and find your own, but everyone needs to remember that it will never happen over night.
Which one secret to photography would you like to share with the Flickrverse?
There's 2 rules to success:
1. Never reveal everything you know
2.
Stephen, thank you very much for being part of our Photographer Spotlight series!
If you are in the Liverpool, UK, area, check out the Negligent Eye exhibition held at the Bluecoat Gallery. One of Stephen's photos will be exhibited alongside lots of different artwork, paintings, textile etc.! The opening night is on the 16th of May and is called Light Night, it's a big promotional event for the Bluecoat and some other galleries in Liverpool. You can discover many more photos in Stephen's photostream.