There aren't too many left like Brian Day — a prevailing beacon of hope for the remaining believers in authentic, substantial photography. Although his day job is the Chief Technology Officer for a healthcare firm in Detroit, photography is what keeps him sane. He describes his photography as love letters to his hometown, "acknowledging its flaws, but appreciating its beauty, history, architecture, and most importantly, it's people."
Brian has the privilege of being able to tell a "fuller, more satisfying story" through his photographs of Detroit because of his close connection with the place. The city also remains his most significant challenge because of both the spectrum of perceptions about Detroit and the fact that a lifetime of intimacy with a single town has the power to leave one jaded.
Brian categorizes his work in the following genres of choice, including fine art, street photography, cityscape and documentary. His diverse representation in photography could be expressions of his many inspirations: avant-garde jazz, science fiction (specifically "the notion of time travel and the idea of visually surreal and yet strangely familiar imagery") architecture, and a love for people and an ever-changing urban environment.
One of the most treasured qualities of Brian Day is his utter humility with his work. Photography is his personal self- therapy and creative outlet for the typical daily stressors of life. His desire for self-betterment is enough to continually propel him as he has no interest in the immediate gratification of social media fame.
"I started with zero likes and followers and no one lining up to buy my work or ask me about my creative process – and yet, I absolutely loved making images with no other reward in mind than the personal satisfaction of having made something."
He's happy to be interviewed, but he knows popularity is not the path to success:
"I am extremely honored to have this privilege: doing an interview with the largest photography community in the world, the place where I posted my first photo, and the place where I've learned so much. But if all of these cool privileges were taken away today, I would continue creating images for myself. I'm happily compelled to learn and make images, and whether or not anyone notices and I hope that I can continue to do so long into the future."
Brian began an aerial series in which he uses his Phantom 4 Pro drone to take photographs above freeway overpasses. But why freeways?
"Freeways are simply kinetic. Always in motion, always changing. More specifically, they represent the movement of humanity; countless life stories shuttling along in near anonymity, moving toward the future. In some respects, those are, ironically, all the same attributes I look for in my other photographic subject matter."
Other photos from his aerial series include building overheads and stunning cityscapes.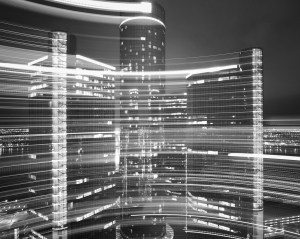 As phenomenal as these photos are, Brian has one large concern with photography in general that he can't entirely address with his work. Because of the mass amounts of imagery everyone is exposed to daily due to the likes of social media, people are "somewhat desensitized." This means that photographers hoping to craft some purpose in their work, have to challenge their "visual perception of subject matter and the execution of their shots" in order to create something compelling.
Brian's greatest fear is that talented photographers may stop trying to create images with meaning, simply out of frustration. "I don't worry about the validity of photography as a medium, but I do worry about the influence of photography over minds and hearts, and the risk that some photographers could become so consumed by the pursuit of social media fame and instant gratification that the quality and intent of the work starts to take a back seat to ubiquity."
He hopes photographers never forget that their work has "the power to impact minds and hearts and to even motivate actions."
Even though Brian spends photography time in the clouds, he hasn't encountered completely smooth sailing shooting on the ground either. The very first week he purchased his first DSLR, he took it shooting at an iconic abandoned building in Detroit. Arriving earlier than his fellow photography partner, he wandered in alone and eager to capture the essence of the building:
"I wandered into one large room that had a rusty chair and a gorgeous, dusty shaft of sunlight shining right through a window and onto the chair. It felt a little like a scene from Indiana Jones, and so I scrambled to unpack my gear and set up for a shot. As I prepared to take the shot, leaning over my tripod and fumbling with my camera settings with my back to the entrance of the room, I heard a shout behind me: 'Put down the weapon and put your hands in the air!' I immediately raised both arms, and replied, 'I'm just a photographer, I don't have a weapon!' I was told to turn around, and when I did, I was confronted with no less than a dozen armed men, pointing their weapons at me."
Apparently Detroit Police, Customs and Border Protection, and a group whose tactical jackets read "FUGITIVE RECOVERY UNIT" were all searching for an armed fugitive in the area and Brian's photography equipment gave him the edge that law enforcement took notice of. Moral of the story: Never look too edgy. It's common knowledge carrying around photography equipment ramps up your edgey-ometer so just be aware.
In terms of advice to novice photographers, Brian gave a few feasible actions to try out.
Allow social media to play a role in your work without defining it.
Engage in meaningful dialogue that forces you to articulate why you make pictures, not to convince the world that you are good, but to help clarify for yourself what your intentions are. Don't worry too much about how good your gear is compared to others, but learn everything you can about what you do have, so that you can exploit it creatively.
Experiment: push your gear and your knowledge to the limit and find out what it can and can't do, and then figure out how to push it even further.
Read more, because it can shape and refine your perspective on life, and thus, your visual response to that perspective.
Learn about other work, because no matter how unique and cool you think you are, you'll probably learn that at least some of your work is inadvertently highly derivative, which will push you to either evolve into new thinking or risk being a carbon copy of someone else."Finally, ignore everything I just said and do you."
If you like what you see, be sure to check out Brian's photostream and his personal website! Brian's website is concentrated more on his Detroit based series, which also includes video content and an extremely constructive blog! If you're interested in chasing the work of Brian Day, your first stop should be the M Contemporary Art gallery in the Metro Detroit area to see his solo photo exhibition now! In May, he will also be participating in an exhibit in Paris!