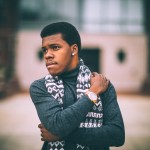 When Jordan Kines isn't in the classroom finishing up his last semester of college, he's either shooting or directing a music video or short film. Boston born and raised, this talented creative is also using directing and cinematography as other outlets for his original visions. Look out workforce, Jordan is coming for you.
Jordan was kind enough to join Flickr for an interview, which we think you will enjoy.
The Moment Passion Struck:
I always enjoyed taking pictures. Seventh grade was a dark time for me. I was bullied excessively for my femininity, and I did not know how to handle it. I did not know what bullying was. So sadly, I was depressed and felt like my life meant nothing. It wasn't until Christmas time in seventh grade that I watched this movie called This Christmas, which starred Chris Brown. His character in the film was a photographer, and throughout the movie, he took photographs of the family during the coming days of Christmas. He was always behind the camera, and by Christmas, he made a photo book and gifted one to every family member. I remember telling my mother, "Mommy I want to be like Chris Brown! Can I get a camera for Christmas?! I want to make a photo book too!"
When I got that camera and delved into photography, I felt like I had a purpose. It became an outlet that allowed me to escape the bullying at school. My passion for photography and movie-going coexisted, and I never knew the correlation between the two. When I learned that photography is a derivative of filmmaking, I began to imagine what my still photos would look like in motion picture form. This is also how I arrived at filmmaking.
The Place To Be:
I often need a constant change of pace and direction. My desire for adventure and exploration rarely leaves me in one spot for too long! I am so much more aware when I experience unfamiliar places because it allows me to expand my comfort zone, which is why I love traveling. The best place that I have been so far is Iceland! Wow. Iceland is indeed a land of magic and a beacon of nature's greatness.
Models:
As funny as it may sound, all the models that are seen in my images are my friends, colleagues, clients, and classmates! I tend to photograph my friends when we hang out together and thankfully, those photo results lead to client work. Because I shoot so often with friends and classmates from school, you can see them reoccurring on my Flickr photostream.
Favorite photo:
One of my favorite images of all time that I've captured is Parade of Champions. I am not an athletic person. However, I am still able to join in celebrating the Patriots whenever they succeed. The New England Patriots have entertained countless millions of viewers at the Super Bowl for the last decade. It can be argued that they have made the Super Bowl the massive spectacle that it is. At the Super Bowl 2017, Tom Brady led the Patriots to one of the most historic comebacks wins ever. This photograph captures the essence of Boston and how forceful we are as a city. It was exhilarating to photograph a historic triumph in a renowned city from a unique vantage point. Boston Strong.
Aerial shots:
Air Kines is a brand name that I created to distinguish and market my aerial photography. It is a hashtag that I use on Instagram to house all of my aerial images. My aerial photographs are conceived with the help of both helicopters and drones. I first dabbled in aerial photography on my 21st birthday in 2015. I flew over Boston, and it was breathtaking. In the following year, spring 2016, along with three other filmmaking friends – I went up again. We made an aerial film, which can be seen here.
[vimeo 163694555 w=640 h=360]
Breathe || Above Boston 4k from Farallon on Vimeo.
This film went viral and was featured on major Boston hubs and the news. At this moment, I realized how powerful we are and how viable Air Kines can be. I continued at it and invested in a drone. The progression of drones has allowed for aspiring aerial photographers and cinematographers to capture imagery without breaking the bank (because helicopter flights are incredibly pricey). Drones have permitted for creatives to explore more compelling perspectives and have shifted the art form of aerial imagery. With this advancement in technology, photographers now have access to experiment with aerial photography. Drones can only be an invasion of privacy if the operator doesn't abide by FAA laws or doesn't get permission to fly over private properties or occasions. There are nuances between helicopters and drones, but despite that, both methods can be celebrated for their contributions to the advancement of aerial photography and cinematography.
Biggest Weakness:
My biggest weakness as a photographer comes from within – my impatience. I tend to rush a lot and try to get to locations to capture an image in a particular lighting situation. My mind is always occupied with the next shot before I've captured the one I am framing (this tends to happen in my directing and cinematography as well). I often find that I need to slow down and focus on being present and let things come to me. I discovered that there is so much beauty in spontaneity and making unforeseen images. By slowing down, being patient, and present I can emotionally connect with my subjects.
Giving Younger Self Advice:
If I could give my younger self any piece of advice, it would be to go for it and not ask permission. When I first started out in photography, I thought I needed permission and to be surrounded by other photographers to create what I wanted. I wore my desperation like a smelly coat. It wasn't until I started taking the initiative that I realized it was my responsibility to self-generate work and share it with the world.
Why Flickr:
Flickr was the very first photography platform that I was introduced to and signed up for. Of all of the photo-sharing platforms that I use or have used, Flickr has been the most consistent and true to itself. Flickr has maintained its identity while also putting the needs of photographers first. I love that my image quality is not compromised upon uploading. I enjoyed and still do enjoy Flickr because of how intuitive the site is and how I can navigate smoothly. I can organize my photos into albums nicely. Also, the warm, inviting community. Comments from other users, informative forum discussions, and the influx of inspirational photos – these are all reasons why I love Flickr. I learned a lot about the craft and my work just from these interactions. And the best thing is – I made lots of friends there who became close friends in the real world. Flickr has stood the test of time and will continue to because of its particular combination that caters to its Flickr members and the photographic community at large.
Greatest Fear in Photography:
My biggest fear about being apart of the photographic community in this age is not fully being noticed or recognized. With the progression of technology and mobile phones, it seems as though anyone can be a photographer. Our phones have sophisticated camera systems. Which, contributes to the influx of so many images and new people who are interested in photography. The line that separates photographers from people who aren't has been blurred. It is so great to see new people who are inspired by this art form and want to get involved. However, at times it is often challenging to identify those are genuinely passionate about the craft and have the photographic ability.
Future:
I hope that one day I will be blessed enough to witness my work being displayed in an exhibition. In the meantime, I would like to extend a thank you to the incredible Flickr Staff for giving me the opportunity to be apart of this series along with other talented members of the Flickr community. I look forward to learning about other artists and discovering their work.
Be sure to visit Jordan's Flickr photostream to see more of his work.