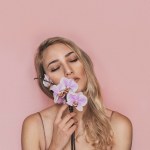 In this 16 Questions About One Photo interview, we spoke to Foteini Zaglara after coming across her work in Explore. Foteini is based in Athens, Greece and she describes her photography style as conceptual. Read to learn more about what inspires Foteini's work and to hear her inspiring message about the importance of photography and the arts, especially during hard times.
This is the start of a new interview series called 16 Questions About One Photo, in which we ask a community member to tell us more about a photo that they've shared on Flickr. For our first interview in this series, we spoke to Foteini Zaglara after coming across her work in Explore. Read on to learn more about Foteini and the message behind her photography.
1. Please introduce yourself. Who are you? What do you do? How long have you been into photography?
Hi! My name is Foteini Zaglara and I'm a 25-year-old (self)-portrait artist from Athens, Greece. I started photography at the age of 19, when I started to play with a DSLR and Photoshop. During this time I was studying at the University of Ioannina, in the department of early childhood education. It didn't take me long to realize that my true passion is photography.
2. In one sentence, please describe what you captured in this shot.
In this shot, we see a figure doing her beauty routine in her house, during lockdown.
3. Why did you select this photo to talk to us about?
I selected this photo because it's relevant. In Greece, we have a second lockdown and that means that we have to stay home and be safe. The main inspiration is what women do during this time.
4. What style of photography would you describe this as and do you typically take photographs in this style?
I would describe this as conceptual and [that's] definitely part of my personal [photography] style.
5. When and where was this photo taken?
I took this photo a few days ago, on December 1st. [It was taken] in my house, here in Athens, Greece.
6. Was anyone with you when you took this photo?                                                                 
It's a self-portrait, so I was all alone with my equipment.
7. What equipment (hardware and software) did you use?
The equipment I used for this one was my Nikon D610, Nikkor 50mm 1.8 lens, Nikon WU-1A wireless adapter, my mobile, and natural light from a window. During the editing progress I used three programs: Lightroom, Photoshop, and Exposure X6.
8. What drew you to take this photo?
The current situation of the pandemic and how it affects women. Statistics show that many women bought self care and beauty products during the first lockdown. The same happened during this one. I think that the lockdown not only was a way to protect each other but it was also a reason to spend time with ourselves.
[And] for me, keeping up with a beauty routine is a struggle, but I try!
9. How many attempts did it take to get this shot? How long did it take you to get one that you were satisfied with?
It depends on the concept. Sometimes I can spend almost half a day for a single image and sometimes only an hour or two. For this one, I spent one hour on getting the shot and 1.5 hours on editing.
10. Did you edit or do any post-processing/production on this photo?
I always edit the photos myself! I spend a lot of time editing until I get the desired outcome.
11. What encouraged you to share this photo on Flickr? Did you share it anywhere else (in a contest, a group, etc)?
Flickr is the main home for my photography. The first time I put an image on the internet, it was via Flickr. So, every time I create an image, the first site I upload my work to is [Flickr]. For this image specifically, apart from Flickr, I uploaded it on Instagram.
12. Did you learn anything in the process of taking, editing, or sharing this photo?
That's a tough question. Every time I create an image I learn from the various parts of the process and especially from "trial and error." For this picture, I had a clear idea of the final result in my mind, so I knew exactly what I had to do.
13. Do you remember what you had for breakfast the day you took this photo?
I had a big bowl of cereal and almond milk for breakfast.
14. What would you like people to take away from this photo?
First and foremost to stay home and stay safe. We are so lucky that we have the arts in our lives and they give us a temporary relief from the current situation of the pandemic. Secondly, I advise them to never give up on their passion, creativity, and positivity.
15. Is there any feedback that you'd like to get on this shot?
I would love to hear how [this photo] makes [people] feel. The best part is when people send me messages and the fact that many of them see something totally different from my main idea, is still surprising to me.
16. How can people reading this support your work?
Lately, I've been focusing on passing my feelings, thoughts, and ideas through [the] arts and I feel my photos are a part of me. There are two ways to support my art, by following my journey through photography on Flickr and Instagram and by buying some prints of my work.