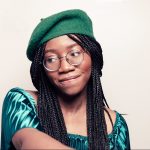 In this 16 Questions About One Photo interview, we spoke to Flickr member Leslie Frempong. Leslie is a Houston-based photographer specializing in fashion photography. In her answers, she walks us through the process of creating a photo collage during a model photoshoot, from capturing the model's personality to her first experimentations with physically manipulating a print.
Read on to learn more about Leslie, her workflow to photograph Kenneth, and the path to finding her style.
Interested in taking part in this interview series? Let us know!
1. Please introduce yourself. Who are you? What do you do? How long have you been into photography?
Hello! My name is Leslie Frempong, I'm a photographer. I picked up an interest in photography back in 2014. (Thanks to my mentor, David Allen).
2. In one sentence, please describe what you captured in this shot.
A visualization of "damaged but whole".
3. Why did you select this photo to talk to us about?
I consider the experience I had when this image was taken to be one of the milestones that really helped craft my current photography style.
4. What style of photography would you describe this as and do you typically take photographs in this style?
A photo collage, I guess. This was during the time I was getting my Masters degree from the School of the Art Institute of Chicago (SAIC), so my style was still being developed while I was studying media ethnography. My access to resources have changed so my creative approach has as well. Nowadays I like to experiment with more digital manipulation than physical.
5. When and where was this photo taken?
October 2018 in Chicago, IL.
6. Was anyone with you when you took this photo?
Just the model and I.
7. What equipment (hardware and software) did you use?
As a college student, I didn't really have money for equipment and software. But SAIC has a Media Center that allowed students to borrow equipment for a couple days so I used a Canon EOS 5D Mark III, an EF24-105mm lens and a Bowens Strobe Light Kit. I have a playlist on Spotify I use to energize models too. For editing, I used Adobe Lightroom, Adobe Photoshop, a color laser printer, and various types of photo paper.
8. What drew you to take this photo?
Kenneth (the model pictured) and I were having a deep conversation about his upbringing and his worries about entering the modeling industry at an older stage in his life. But when we started talking about fatherhood, his face just switched from the generic "model smile" to a "happy dad smile". I just had to take a photo.
9. How many attempts did it take to get this shot? How long did it take you to get one that you were satisfied with?
It was a candid moment so luckily just one, and I'm glad I caught it!
10. Did you edit this photo?
Yes, I did the editing in Lightroom then a little retouching in Photoshop. Next I experimented with physically manipulating (tearing, folding, cutting etc.) the photo.
11. What encouraged you to share this photo on Flickr? Did you share it anywhere else?
Flickr has been my home base for nearly a decade, so everything lives here. I presented the photo in class during an art critique session. From there I sometimes branch out to other social platforms.
12. Did you learn anything in the process of taking, editing, or sharing this photo?
Oh, a lot. I like challenging myself to try something new whether on a technical or conceptual level. This was one of my first experimentations with scanning, reprinting and physically manipulating prints during the photography process. I also learned a lot about what kind of artist I wanted to be.
13. Do you remember what you had for breakfast (or lunch or dinner) the day you took this photo?
I usually skipped breakfast to save money during college. I don't remember lunch or dinner, but I probably drank Joe Tea Peach Tea with it.
14. What would you like people to take away from this photo?
Anything! We can all look at the same piece of work in a gallery and everyone will say something different about it. It may not match the artist's intentions, but that's okay.
15. Is there any feedback that you'd like to get on this shot?
Conceptual feedback is always welcome, I love hearing people share their thoughts on what a piece conveys. Technical feedback is also welcome.
16. How can people reading this support your work?
I'd love to work on more creative projects. I'm also on multiple social platforms, from Flickr to Instagram and I have prints.