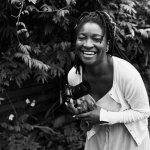 Iko-Ojo Mercy Haruna is a portrait and documentary photographer dedicated to documenting the fleeting moments of family life. She focuses on stories that capture the beauty of the everyday as well as those that dive into deeper conversations about the realities of motherhood.
1. Please introduce yourself. Who are you? What do you do? How long have you been into photography?
My name is Iko-Ojo Mercy Haruna, or just Mercy to most people. I'm a Nigerian born, U.K. based portrait and documentary photographer focused on motherhood and family life since 2014. My first encounter with photography was when I took a darkroom class in high school. I learned to work with black and white film and I've been in love with the medium ever since. After my second child was born, I started documenting our daily life and it evolved into my ongoing project called "This is Home". The project is inspired by images I would have loved to see of my own childhood. My personal family documentary has now paved the way for me to do the same for families in my community.
2. In one sentence, please describe what you captured in this shot.
This image is of my friend playing a soothing tune on her harp while our sons play in the corner of the room.
3. Why did you select this photo to share?
It's one of my favorite photos and I wanted to share it with the world!
4. What style of photography would you describe this as and do you typically take photographs in this style?
I would describe it as family documentary and it represents the kind of work I usually do. I'm obsessed with capturing moments of life that are mundane and fleeting, moments that I want to remember when I'm old and grey. I want future generations to look at my photographs and get a sense of what an ordinary day was like in my time.
5. When and where was this photo taken?
It was taken in my friend's apartment in London in November 2018. I was visiting with my children and I brought my camera along to document our time together.
6. Was anyone with you when you took this photo?
Apart from those pictured, my daughter was also somewhere in the room.
7. What equipment (hardware and software) did you use?
I used my Sony A7ii + 50mm f1.8 lens and edited in Lightroom.
8. What drew you to take this photo?
The beauty of the light, the colors, and the mood at that moment drew me in. I loved the split lighting in the scene and the tune my friend was playing. I can hear it now just looking at the photo.
9. How many attempts did it take to get this shot? How long did it take you to get one that you were satisfied with?
I took ten varied shots of this scene: closer crops, portrait, slightly different angles, etc. When I went through my contact sheet, this was the shot that I felt best captured the moment.
10. Did you edit (or do any post-processing/production on) this photo?
Like with most of my work, I did very minimal post-processing. I increased the warmth and lifted the shadows slightly.
11. What encouraged you to share this photo online and with others?
I first submitted this photo for a private critique session and got really good feedback. I then shared it publicly because I wanted people to know that I planned to do more sessions documenting every day family life post-lockdown.
12. Did you learn anything in the process of taking, editing, or sharing this photo?
The biggest lesson I learned from the process was from putting this photo up for critique. For someone who is usually drawn to black and white, sometimes I find colour overwhelming to work with and my instinct is to either shoot in black and white or convert colour files. I originally submitted a black and white version to the critique and one of the panelists whose signature is low-lit colour images requested to see it in colour. After we talked through both versions, I realized how much the colour in the scene was one of the things that drew me in and converting it was taking away the feeling I was trying to convey. I'm so glad I submitted it and that she saw the potential of the image. Now I'm working on embracing colour a bit more!
13. Do you remember what you had for breakfast (or lunch or dinner) the day you took this photo?
I had some delicious grilled salmon and vegetables prepared by my friend for dinner.
14. What would you like people to take away from this photo?
I would love for people to be inspired to document ordinary moments in their lives. There is so much beauty in mundane moments that we miss sometimes when chasing epic moments. Document your time with your loved ones!
15. Is there any feedback that you'd like to get on this shot?
I welcome comments about how the image makes people feel when they look at it.
16. How can anyone reading this support your work?
Follow me on Twitter, Instagram, and Flickr. Sign up for my newsletter and keep an eye on my website for limited edition prints of my photography, which will be available starting this September. This photo is also on exhibit at the Halpern Gallery Chatham through August 25th, 2021.
Editor's note: This interview with Iko-Ojo Mercy Haruna is part of a series that we're conducting with members of the Black Women Photographers community. Please give a warm Flickr welcome to Mercy and head here for more interviews in this series. You can also see more of Mercy's "This is Home" project on her website.