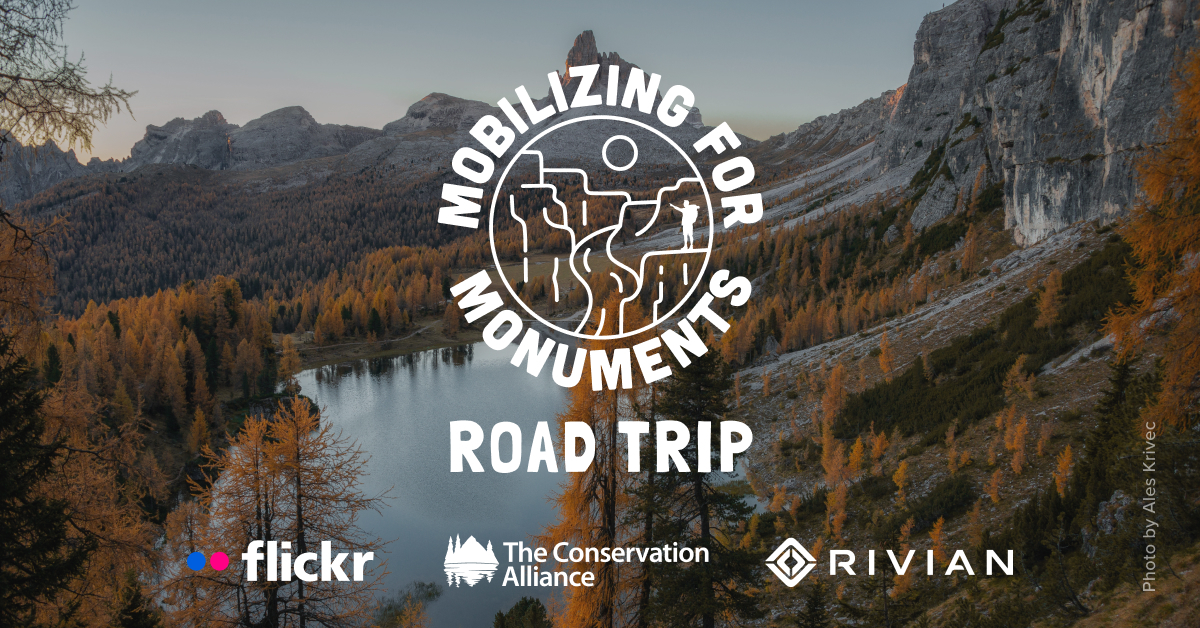 Hey, Flickr here! 
We're thrilled to share an incredible journey with you—a road trip that promises not only stunning landscapes but also a deep dive into the heart of conservation and community. As part of a remarkable partnership, The Conservation Alliance (TCA), Rivian, and Flickr are embarking on a five-day expedition from the picturesque landscapes of Colorado to the beautiful coasts of California.
"Sunset girl – Joshua Tree National Park, United States" photo by Giuseppe Milo
Mobilizing for Monuments: A movement that matters.
Our trip is not just about the thrill of the road; it's a mission to reflect on the significance of conservation and community. We're part of the Mobilizing for Monuments movement, a broad coalition of businesses supporting locally-led national monument campaigns nationwide.  Why, you ask? Because we understand that protecting our public lands directly benefits our economy, culture, and way of life. 
The Mobilizing for Monuments (M4M) Road Trip is a testament to the dedication of TCA and coalition partners in preserving our precious public lands. It's about coming together to showcase why safeguarding these special places is vital.
Our adventure team.
We're not traveling light! Flickr's film crew and photographers are all set to document and capture these cherished landscapes and bring these stories to life. We firmly believe that the art of photography plays a central role in championing the mission of M4M and hope that the beauty and profound significance of these landscapes are not only preserved, but also shared and celebrated through the impact of photography.
Rivian, maker of the R1T and R1S electric adventure vehicles, is providing us with zero tailpipe-emission transportation for this journey. As we navigate these precious treasures, Rivian's commitment to preserving the natural world will help ensure we tread lightly on the earth.
Along the way, we'll connect with local TCA members, campaign partners, and community leaders who share our vision. These partnerships are crucial because they help us delve into the heart of local communities and highlight the tangible benefits of the monuments.
A focus on storytelling: More than just pictures.
The core of this journey is storytelling, and we want to reveal to the world why these places aren't just visually stunning, but also vital for business and our outdoor community.
During the M4M road trip, we'll link up with local communities and business owners who have experienced the positive impact of monuments, demonstrating the strong connection between conservation and a thriving local economy.  It's all about making the connections and bringing their stories to light.
"Berryessa Snow Mountain National Monument" photo by Bob Wick
Join us on the M4M road trip.
This isn't just a journey, it's a call to action. The road trip will serve as a platform for advocating for the designation and expansion of new monuments and emphasize the integral role that national monuments play in protecting wild landscapes, preserving cultural and historical legacies, and nurturing opportunities for recreation.
Stops include Dolores River Canyon Country in Co., Baaj Nwaavjo I'tah Kukveni—Ancestral Footprints of the Grand Canyon National Monument in Az., Avi Kwa Ame National Monument in Nv., and Chuckwalla and San Gabriel National Monuments in Ca.
We invite you to come along for the ride, be a part of the excitement, and get inspired by our public lands' natural beauty and cultural richness.
"Southwest Colorado" photo by David Berger
How you can make a difference at home.
As Flickr members, your daily uploads of stunning photos reflect your deep appreciation for the natural world. We invite you to discover the campaigns hosted by the Mobilizing for Monuments coalition and lend your support. Stay updated on upcoming actions and petitions associated with these campaigns to ensure the long-term preservation of these areas for future generations.
The overarching objective is to urge President Biden to leverage the Antiquities Act, allowing the designation of federal public lands through presidential proclamations. The most recent designation was celebrated in August with President Biden designating Baaj Nwaavjo I'tah Kukveni—Ancestral Footprints of the Grand Canyon National Monument. You can read more about that exciting accomplishment here!
Join us in shaping the future.
Together, let's shape a future where our Flickr community and future generations can continue to explore, capture, and conserve awe-inspiring places. 
Make sure to follow us on Instagram because we'll be sharing our experience on the road! We hope this journey will leave you with a deep appreciation for the importance of protecting our natural monuments. 
Are you ready to hit the road with us? Let's roll! 
Explore stunning landscapes in the Mobilizing for Monuments gallery on Flickr, showcasing our amazing community's photos.
Written by: Crystal D., Director of Marketing, Flickr
Not a Flickr member yet? Sign up today to join our community of photographers and find your inspiration.